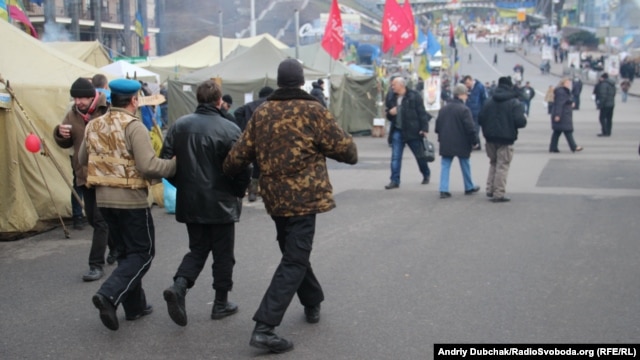 Supporters of Ukrainian President Viktor Yanukovich rammed a sweeping law through parliament on Thursday in an attempt to curb anti-government protests, sparking an outcry from the opposition and raising tensions on the streets, Reuters reports:
The law, backed by 235 of 450 lawmakers, said unauthorized installation of tents, stages or amplifiers in public places in Ukraine would be punished by a fine of up to $640 or by up to 15 days in detention. People and organizations who provided facilities or equipment for unauthorized meetings would be liable to a fine of up $1,275 or by detention of up to 10 days.
Another provision follows the precedent of a similar Russian law by designating members of non-governmental groups in receipt of foreign funding as "foreign agents".
Contrasting Ukraine with the neighboring authoritarian state of Belarus, Volodymyr Fesenko, a political analyst, tweeted: "The events unfolding in parliament in past hours mean that either a Belarus scenario is being prepared, or it's the end of parliament in its current form."
He added: "Those that think that they are solving the crisis this way are only deepening it."
Arseniy Yatseniuk, who heads the Fatherland party of jailed opposition leader Yulia Tymoshenko, said: "Today, Yanukovich and the Party of Regions committed a crime. . . They usurped power." 
Describing the voting as a "constitutional coup", he said the legislation was aimed at "jailing oppositionists," The Financial Times reports:
Many young social media-savvy protesters saw themselves targeted by another law that threatens to punish defamation spread through postings with up to two years in prison.
"This is a clear attempt to set up a police state . . . to intimidate the protesters," said Olexiy Haran, a political science professor and member of the protest movement's co-ordination council. "With Yanukovich going against the will of the masses, with him seeking to hold on to power by setting up an authoritarian regime for the long-haul, it's hard to see how things will unravel."
The new laws make blockading public buildings punishable by up to five years imprisonment and simplified a procedure to prosecute lawmakers. Protesters wearing masks or helmets face a fine or administrative arrest and the dissemination of slander on the Internet was made punishable by a fine or 'corrective labor' of up to one year. Individuals or organisations providing facilities or equipment for unauthorized meetings are liable to a fine of up $1,275 or detention of up to 10 days.
"The regime of Viktor Yanukovych and the Regions Party have completely destroyed state power in Ukraine," said Yatsenyuk, leader of the Batkivshchyna (Fatherland) party. "This is nothing else but an overthrow of the constitutional system and a power grab in Ukraine."
Oleg Tyahnybok, leader of the right-wing Svoboda party, said: "Parliamentarianism is dead."
Stalinist and silly
"In classic Stalinist fashion, with modifications adopted from Vladimir Putin's efforts to reduce Russian civil-society associations to vassals of the Russian state, the new laws combine the sinister with the seemingly silly," writes George Weigel (left). "As of January 16, five-car "columns" of cars are forbidden without explicit police permission. (Why? Because convoys have been organized to spread the EuroMaidan movement throughout Ukraine from its Kievan epicenter)."
One of the new laws "against extremism" also attempts to cut civil-society activists and their organizations off from their Western allies, he notes:
A civic association functioning as a foreign agent is [any] civic association that receives monetary funds or in-kind donations for its activities from foreign states, their state institutions [organs], non-governmental organizations of other states, international nongovernmental organizations, foreign citizens, persons without citizenship or their representatives who receive monetary funds or other in-kind materials from the mentioned sources, or who participate in political activity on the territory of Ukraine, also in the interest of foreign states.
"The language may be a bit baroque, but the intent is clear enough," says Weigel:
Any Ukrainian civil-society organization that accepts funds for civil-society or pro-democracy work from, say, the U.S. National Endowment for Democracy (full disclosure: I serve on the NED board), the European Endowment for Democracy, the AFL-CIO's Solidarity Center, the U.S. Chamber of Commerce's Center for International Private Enterprise, or the American political parties' international institutes will be considered a "foreign agent." It must identify itself as "as a civil association performing the functions of a foreign agent."
Ukraine's government "has failed to consistently respect the rights of freedom of speech and press," said Thomas Melia (right), Deputy Assistant U.S. Secretary of State, in testimony before the U.S. Senate Foreign Relations Committee this week. 
"The embers that sparked the protests in late November are still burning and will not be easily extinguished," he said.
Reporters Without Borders said it is appalled by the Ukrainian parliament's hasty adoption today of Law 3879, a legislative package that copies some of the most repressive provisions of recent Russian legislation.
"We urge President Viktor Yakukovych not to promulgate this law, which would represent a decisive step back from democracy," Reporters Without Borders said.
"Designed to halt the wave of opposition protests that began in early December, it increases abusive restrictions on freedom of information and other fundamental freedoms. The way it was adopted in parliament, in violation of voting procedure, reinforces the clear impression that it constitutes a major attack on civil society."
Victoria Nuland, U.S. Assistant Secretary of State for European and Eurasian Affairs, told the Senate Foreign Affairs Committee that Washington wanted Ukraine's political crisis to be resolved democratically and without further violence.
"Like the vast majority of Ukrainians, the United States and our partners in the European Union want to see the current stand-off resolved politically, democratically, and above all, peacefully," Nuland testified.
"However, the use of violence and acts of repression carried out by government security forces and their surrogates have compelled us to make clear publicly and privately to the government of Ukraine that we will consider a broad range of tools at our disposal if those in positions of authority in Ukraine employ or encourage violence against their own citizens."
She sought to refute the charge by Senator Robert Menendez, the Democratic chair of the Senate Foreign Affairs Committee, that the administration had failed to criticize Russia "openly and strongly" about its use of economic coercion. 
"We have made clear consistently, both publicly and privately, that the coercive actions of Russia, not only against Ukraine but also against Moldova and Georgia, are violations of many undertakings that they have made including Helsinki principles and in some cases [World Trade Organization] obligations, and we will continue to be absolutely clear about that," Nuland said.