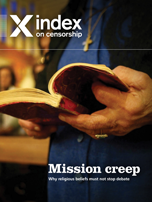 The recently-established European Endowment for Democracy could signal a potential 'paradigm shift' in the European Union's support for freedom of expression by providing rapid and flexible funding for pro-democratic activists in authoritarian states and democratic transitions, writes Index on Censorship analyst Mike Harris.
The European Union has two mechanisms to financially support freedom of expression globally: the European Instrument for democracy and human rights (EIDHR) and the European Endowment for Democracy (EED), he notes.
The latter was specially created after the Arab Spring in order to resolve specific criticism of the EIDHR: that it didn't support political parties, non-registered NGOs and trade unions and could not react quickly to events on the ground. The EED is funded by, but is autonomous from, the European Commission, with support from member states and Switzerland. The aims of the EED, to provide rapid and flexible funding for pro-democratic activists in authoritarian states and democratic transitions, is potentially a "paradigm shift" according to experts that will have to overcome a number of challenges, in particular a hesitation towards funding political parties and the most active and confrontational of human rights activists.
The EU and freedom of expression in its eastern neighborhood
Europe's eastern neighborhood is home to some of the least free places for freedom of expression. The collapse of the former Soviet Union and the enlargement of the European Union have significantly improved human rights in eastern Europe. There is a marked difference between the leverage the European Union has on countries where enlargement is a real prospect and the wider eastern neighborhood, where it is not, in particular for Russia and Central Asia. In these countries, the EU's influence is more marginal. Enlargement has clearly had a substantial impact both on the candidate countries' transition to democracy and their respect for human rights.
Russia
The European Union's relationship with Russia has not been coherent on freedom of expression violations. While the institutions of the EU have criticized specific freedom of expression violations, such as the Pussy Riot sentencing, they were slow to criticize more sustained attacks on free speech such as the clampdown on civil society and the inspections of NGOs using the new Foreign Agents Law. The progress report of EU-Russia Dialogue for Modernization fails to mention any specific freedom of expression violations in Russia. The EU has also limited its financial involvement in supporting freedom of expression in Russia, unlike in other post-Soviet states. The EU is not united on this criticism: individual European Union member states such as Sweden and the UK are more sustained in their criticisms of Russia's free speech violations, whereas other member states such as Germany tend to be less critical. It is argued that Russia's powerful economic interests have facilitated a significant lobbying operation including former politicians that works to reduce criticism of Russia's freedom of expression violations.
The European Union's protection of freedom of expression is weakest in Central Asia, Harris notes.
While the EU has human rights dialogues with Kazakhstan, Kyrgyzstan, Tajikistan, Turkmenistan and Uzbekistan, it has not acted strategically to protect freedom of expression in these countries. The EU dramatically reduced its leverage in Uzbekistan in 2009 by relaxing arms sanctions with little in return from the Uzbek authorities, who continue to fail to abide by international human rights standards. Arbitrary arrests, beatings and torture at the hands of the security services, as well as  unfair trials of the regime's critics are all commonplace. The European Parliament's special rapporteur report of November 2012, took a tough stance on human rights in Kazakhstan, making partnership conditional on respect for Article 10 rights. But, this was undermined by High Representative Baroness Ashton's visit to the country in November 2012, where she failed to raise human rights violations at all.
This lack of willingness to broach freedom of expression issues continued during Baroness Ashton's first official visit to four of the five Central Asian republics: Kyrgyzstan, Uzbekistan, Tajikistan and Kazakhstan, Harris observes.
This extract is taken from an article in a series based on the IOC report, Time to Step Up: The EU and freedom of expression.