A Vietnamese court has convicted a dissident Facebook user for online criticism of the Communist regime, but suspended the 15-month prison sentence and released him from custody.
30-year-old Dinh Nhat Uy was on trial in the southern province of Long An for "having abused democratic freedoms against the interests of the state," a charge frequently used to silence dissidents and activists.
In an interview with VOA's Vietnamese Service after being released, he said he should not have been charged under the penal code.
"My posts on Facebook regarding the protection of Vietnam's sovereignty, people's legitimate rights, and anti-corruption efforts do not violate any laws. What I have done is beneficial to people and does not do any harm," he said.
Human Rights Watch called Uy's trial "the latest in a crescendo of proceedings" against political dissidents, with at least 61 convicted and sentenced to prison so far in 2013, compared to around 40 for all of last year. The group says Vietnamese authorities are trying to silence discontent with one-party rule, and intimidate critics of corruption, land seizures, economic mismanagement and rights violations.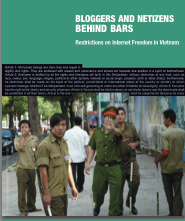 Dozens of bloggers are in prison or awaiting trial for writing about corruption and other politically sensitive issues, according to Bloggers and netizens behind bars: restrictions on internet freedom in Vietnam, a report from the Vietnam Committee on Human Rights and the International Federation for Human Rights (FIDH). – See more at:
The Vietnam Committee on Human Rights is supported by the National Endowment for Democracy, the Washington-based democracy assistance group.