Emerging reports suggest that Kazakhstan's government is planning to release the country's most prominent dissident.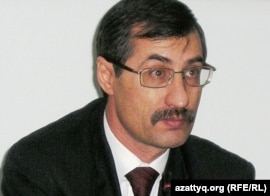 Justice Minister Rashid Tusupbekov is believed to be considering a pardon for imprisoned human rights activist Evgeny Zhovtis (right).
Zhovtis was sentenced to four years in prison for accidentally striking and killing a man with his car. Independent observers consider the prosecution to be politically-motivated and the legal proceedings deeply flawed.
The United States and other Western democracies have pressed the authorities in Astana to release Zhovtis on the grounds that his trial lacked due process, most recently during this week's meeting of the Organization for Security and Cooperation in Europe. US Secretary of State Hillary Clinton used the gathering to make a forceful speech on human rights and it is believed that she raised the case with her Kazakh counterparts.
Kazakhstan is reportedly eager to improve its international image activists. President Nursultan Nazarbayev even recruited former British premier Tony Blair to advise on economic reform and help give a PR makeover to the regime, reportedly as part of Nazarbayev's personal campaign to secure a Nobel peace prize. Kazakhstan has come under fire for its record on human rights and democracy.
"The political system is largely the creation of one man [Nazarbayev], who first assumed power as Kazakhstan's Communist Party leader in 1989," according to Freedom House.
Zhovtis is director of Kazakhstan's Bureau for Human Rights and Rule of Law, a grantee of the National Endowment for Democracy, and as a leading member of the World Movement for Democracy.