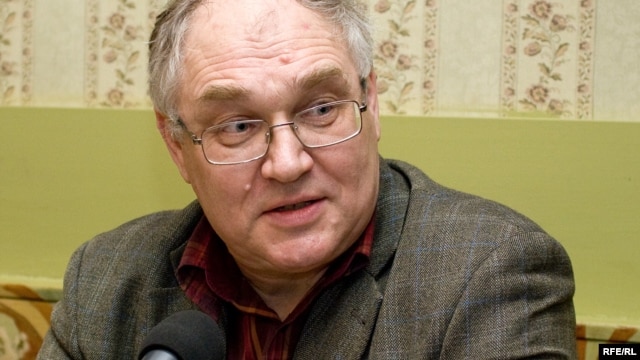 Russians are "now observing the end of an epoch that began with Gorbachev's perestroika," says a prominent analyst.
"These are simply the last remnants of freedom, freedom of scholarship and freedom of information," said Lev D. Gudkov (above), the director of the Levada Center, Russia's leading independent polling agency, which faces the prospect of closure because of new NGO regulations.
"That's it — it's ending with this," he said. "This prosecutor's warning is not just a single isolated act, and it's not just about us. It's the end of a 25-year period in Russia."
"In these circumstances, we cannot carry out independent research," Gudkov says. "We need sources of financing. We finance our own programs and projects by redistributing money we earn in other spheres. But now under this widened interpretation [of the NGO law], any of our partnerships – even if we work with an organization represented here in Russia but which potentially has a foreign source of financing — then we ourselves fall into the category of foreign agent."
The requirement that foreign-funded NGOs register with the Justice Ministry as a "foreign agent" puts the center in an "extremely difficult position." Prosecutors have "brought us to the brink of sanctions on the one hand and are undermining our authority and business reputation on the other," he said.
Other analysts echo Gudkov's fears of a regression to pre-Gorbachev repression.
"In a sense we are returning to Soviet times, when all political information will be generated and doled out by the authorities," says Dmitry Oreshkin, head of the Mercator Group, an independent Moscow media consultancy.
"It's a convenient situation for the authorities, who can just write down the number of votes they need and it will be so reported. Economic indexes will grow constantly, and support for our beloved leader will be always buoyant. And it will go on that way until everything once again collapses," he says.
"Polling is important to Russia's leaders, who view popularity as a key stabilizing element in a system without competitive elections," The New York Times' Ellen Barry writes from Moscow:
The Kremlin spends lavishly on surveys of tens of thousands of Russians but often withholds the results, especially those that point to rising discontent. A division of the All-Russian Public Opinion Center, which works closely with the Kremlin, has reportedly received a similar warning that it falls under the foreign agent law.
The Levada Center's sociologists have clashed with the Kremlin for years. The center's founder, Yuri Levada, incurred Mr. Putin's wrath a decade ago by publishing polls that showed waning approval of the United Russia party and the Chechen wars. When Kremlin officials tried to assert control over his organization by appointing a new board of directors in 2003, Mr. Levada resigned and formed a private company, the Levada Center. …
Levada's data often tells a different story from that of Kremlin-affiliated pollsters. For instance, Levada has reported that around 20 percent of Muscovites support Mr. Putin, far lower than the 64 percent found by a Kremlin-affiliated pollster that included only respondents who voted.
Losing that alternative viewpoint, Mr. Gudkov said on Monday, would set Russian politics back decades, "like the Soviet time, when there was one newspaper, Pravda, and one television channel, something like that."
"A one-sided picture, and people believed it," he said. "That's the way propaganda works. You can't convince people that they are living well, but the idea that the United States has a hostile approach to Russia, that's easy."
The Levada Center is only one of more than 50 civil society groups targeted in the current crackdown, says a leading rights monitor.
Council of Europe Secretary General Thorbjørn Jagland should urge Russian leaders to end the crackdown on civil society groups during his visit to Moscow on May 19-22, says Human Rights Watch.
"This is a crucial time for Secretary General Jagland to stand up for Council of Europe standards in Russia," said Hugh Williamson, the group's Europe and Central Asia director. "The Russian government's crackdown on civil society is unprecedented, and has created a profoundly hostile climate for human rights work."
Jagland today told Russian President Vladimir Putin that the NGO law could have a "chilling effect" on the country's civil society.
"I have expressed concerns about this (law), and I think it is very important … how political activity is being defined," he said at a joint news conference with Russian Foreign Minister Sergei Lavrov.
"I have said to my counterparts that I am very concerned with (the term) foreign agent because it is very sensitive wording," said Jagland, who heads the Council of Europe, which comprises 47 countries, including Russia, with the aim of promoting human rights, democracy and the rule of law.
"And it can have a chilling effect on the NGO community, particularly if this law is not being put into practice in the right manner."
Earlier this month, United Nations experts on freedom of association said that the law was having "obstructive, intimidating and stigmatizing effects" on Russian civil society.
Restrictions on peaceful assembly and association are illegal under international law, which does not recognize protection of sovereignty as a basis for impeding freedom of association, said Maina Kiai, the UN's special rapporteur.
But the regime is dismissive of foreign critics, Robert Amsterdam reports, citing the Foreign Ministry's suggestion that the European Union refrain from 'ideology-based' remarks.
"Putin has portrayed the checks as a step towards bringing transparency to a shady sector," The Moscow Times reports, "which he said took in 28.3 billion rubles ($906 million) in foreign funding in the four months after the law appeared in July, a figure human rights leaders dismissed as grossly inflated."
"This can't but raise questions, and our society has a right to know where this money is coming from and with what goals in mind," Putin told reporters during a visit to Germany in April.