"Just days before Vladimir V. Putin reassumed the presidency of Russia last year, President Obama dispatched his national security adviser to Moscow. Mr. Obama had made considerable progress with Dmitri A. Medvedev, the caretaker president, and wanted to preserve the momentum," Peter Baker reports for The New York Times:
Any hopes of that, however, were quickly dashed when Mr. Putin sat down with the visiting American adviser, Tom Donilon, at the lavish presidential residence outside Moscow. Rather than talk of cooperation, Mr. Putin opened the meeting with a sharp challenge underscoring his deep suspicion of American ambitions:
"When," he asked pointedly, "are you going to start bombing Syria?"
At the time, Mr. Obama had no plans for military involvement in the civil war raging in the heart of the Middle East, but Mr. Putin did not believe that. In Mr. Putin's view, the United States wanted only to meddle in places where it had no business, fomenting revolutions to install governments friendly to Washington.
"Putin was very dug in on this idea that we will never have another Libya," said an American official.
The cancellation of Obama's planned meeting with Putin on the fringe of the G20 summit underscored a visceral personal enmity between the two leaders, said political analyst Andrei A. Piontkovsky.
"The fact is the relations were completely broken for a very long time," said Piontkovsky (right), a former Reagan-Fascell fellow at the National Endowment for Democracy, the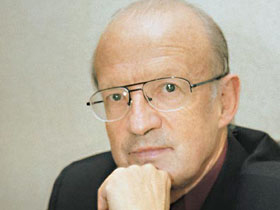 Washington-based democracy assistance group. "The main raison d'être of Putin's policy now is to make an enemy of the United States."
Disillusionment
"The story of the administration's 'reset' policy toward Russia is a case study in how the heady idealism of Mr. Obama's first term has given way to the disillusionment of his second," Baker writes:
Critics say he was naïve to think he could really make common cause with Moscow. Aides say it was better to try than not, and it did yield tangible successes in arms control, trade and military cooperation before souring. …The theory, advanced by aides like Mr. Donilon and Michael McFaul, then the president's Russia adviser, was that after the rupture over Russia's 2008 war with Georgia, there were opportunities for cooperation in areas of shared interest. That did not mean there would no longer be disagreements, but they would try to delink them so that the entire relationship did not suffer.
"The high-water mark came in March 2011. When Mr. Obama decided to join an allied bombing campaign in Libya, his new friend [then Russian President Dmitry] . Medvedev agreed not to block it at the United Nations Security Council — a move that infuriated Mr. Putin, especially when what started as a humanitarian mission turned into regime change," notes Baker:
"The Russians felt they had been played for suckers on Libya," said Robert M. Gates, Obama's first defense secretary. "They felt there had been a bait and switch. I said at the time we would pay hell ever getting them to cooperate in the future."
The Return of Putin
When Donilon arrived in Moscow in May 2012, Putin had accused U.S. Secretary of State Hillary Clinton of instigating major street protests against the Kremlin.
"White House officials had hoped the hostile talk was just for domestic campaign purposes, but even after Mr. Putin formally won re-election he kept it up," Baker notes. "When Mr. Obama sent [Michael] McFaul, the architect of the reset, to replace Mr. Beyrle, the new ambassador was the subject of an unusual campaign of public harassment in Moscow."
Obama and Putin next met on the sidelines of the G20 meeting a month later in Los Cabos, Mexico, he adds:
In classic alpha-male fashion, Mr. Putin kept Mr. Obama waiting for more than 20 minutes, and the two picked up the Syria debate. Mr. Putin asked why the United States was seeking to take out stable if autocratic leaders like Mr. Assad and why it was so intent on waging war in the Middle East.
Mr. Obama reminded him that he had opposed the war in Iraq and said they should negotiate a peaceful resolution in Syria to avoid a radical outcome. "Putin didn't buy it at all," a senior administration official recalled.
One More Try
"While Mr. Obama returned home to focus on his re-election, Mr. Putin used the time to crack down on dissent in Russia," notes Baker:
Protests were broken up, organizers were arrested, and a popular girl band was put on trial for an anti-Putin song. New laws were passed targeting nongovernmental organizations, and the United States Agency for International Development was kicked out of the country. Congress responded with the Magnitsky Act, imposing new sanctions on human rights abusers in Russia. ….Mr. Donilon arrived in April with a package of ideas ….just days after the administration had released a list of Russian officials sanctioned under the Magnitsky Act.  Despite the awkward timing, the tension over Magnitsky barely came up at the meeting.
The arrival of former NSA analyst Edward Snowden in Moscow was "a final death blow to the reset," writes the Times' Baker, who notes that Secretary of State John Kerry and Defense Secretary Chuck Hagel advised Obama to go ahead with a planned Moscow summit meeting with Putin, while national security adviser Susan E. Rice was skeptical.
"You have a small clique of people who see themselves as realists and want to deal with Putin," said Anders Aslund, a Russia scholar at the Peterson Institute for International Economics. "Then you have the vast majority lower down who think this is not acceptable."
Absent change, the reset has "run its course," says Aslund.
The cancellation follows a sharp deterioration in U.S.-Russian relations, says Council on Foreign Relations analyst Stephen Sestanovich.
"The Russians could have solved this problem in any number of ways by arranging for Snowden to travel to countries that would have accepted him. That they didn't has angered the administration and made it more awkward for Obama to go to Moscow without looking somewhat humiliated," says Sestanovich, a board member of the National Endowment for Democracy.
He fears the decision may stoke ultranationalist and xenophobic sentiment in Russia, much of which has reportedly been stoked by the Kremlin.
"There has been a real revival of anti-Americanism in Russia," says Sestanovich. 
Friction
"Obama aides say they oversold the reset, both to the public and maybe even to themselves; it was never meant to transform Russia into an American-style democracy or eliminate all areas of friction," Baker writes:
"We probably overestimated the shared-interest angle," said one official.
The goal now is to keep it from sliding much further. "I don't think it's going to get any better any time soon," said a former administration official. "In fact, I think the potential for something worse is pretty high."  
Putin is "about lost power, lost empire, lost glory," Gates said. "It will be very difficult to make headway as long as he's there."
Wednesday, September 4, 2013
12 noon – The Heritage Foundation hosts a discussion on After Snowden: The G-20 Forum and the Crisis in US-Russian Relations – What Next?
Speakers: Donald Jensen, resident fellow at the Center for Transatlantic Relations; Kyle Parker, policy adviser for Eurasia at the Commission on Security and Cooperation in Europe; Ariel Cohen, senior research fellow for Russian and Eurasian Studies at Heritage; James Roberts, research fellow for economic freedom and growth at Heritage; and Steven Bucci, director of the Center for Foreign Policy Studies at Heritage
Venue: Heritage Foundation, 214 Massachusetts Avenue NE, Allison Auditorium, Washington, D.C.
202-675-1761lectures.seminars@heritage.org; RSVP requested.
,