The European Union and United States today issued an urgent appeal to Egypt's leading political actors to resolve the current standoff.  

"As the holy feast of Eid al-Fitr approaches, this is a moment for leadership, vision, and magnanimity a unifying moment when Egyptians should look ahead at what is at risk and what they have to gain through genuine reconciliation," said a joint a statement from EU Foreign policy chief Catherine Ashton and US Secretary of State John Kerry.
"Critics of the military's constitutional declaration in July have largely focused on particular features of the proposed text, including the provisions backing sharia or the powers of the presidency," note two leading analysts.
"But a well-designed, inclusive process would help heal the wounds of the recent turmoil and play a key role in determining the legitimacy and stability of Egyptian democracy," according to Jill Goldenziel and David Landau, a research fellow at Harvard University's  John F. Kennedy School of Government, and an assistant professor at Florida State University College of Law, respectively.
"Revolution 2.0 will be better than beta only if the new constitutional process includes broad participation and representation from all social and political groups — including the Brotherhood," they write for the Los Angeles Times. "Such an inclusive, consensual approach has been an integral part of nearly every successful transition from military rule to democracy," they contend:
The parties can help ensure that the process reflects a consensus rather than imposition by a simple majority by writing rules that restrain the most powerful political groups while making sure that they deliberate and compromise with other factions. The new constituent assembly need not — and should not — be popularly elected. …Further, to safeguard minority rights, the text should first be negotiated and approved by a large super-majority of assembly members before being put to the voters for approval. ….
Finally, though the military's attempts to impose a set of "principles" on the constitution-making process have been rightly derided as a clumsy attempt at self-protection, a truly negotiated set of ground rules may help improve Egyptian democracy. In South Africa, the old regime and newly empowered actors agreed on a set of basic ideals to govern the process. ……. This kind of constraint assured competing factions that the constitution would contain protections against the excesses of majoritarian rule.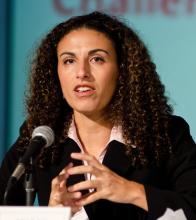 "What started as a political battle for power between the Muslim Brotherhood and Egypt's liberal parties has become an identity crisis for the country," says Sahar Aziz (right), an associate professor of law at Texas Wesleyan School of Law, who also serves on the board of directors of the Egyptian American Rule of Law Association.
For many Egyptians, particularly the intelligentsia, the current conflict represents a struggle for the soul of Egypt that goes far beyond the issue of electoral democracy.  Will the nation remain secular in nature, or will it evolve into an Islamist state, even if governed by a democratically elected regime?
"By the end of Morsi's first year in office, he and his Muslim Brotherhood backers were perceived, rightly or wrongly, as imposing an agenda based on an international religious and political ideology inconsistent with Egypt's national interests," she writes.
Aziz cites a Brotherhood conference a few weeks before Morsi's ouster which encouraged Egyptians to lead a holy war in Syria; Morsi's silence when hardline imams called for Egyptians to become martyrs; the Education Ministry altering textbooks to remove women's rights pioneers, such as Doriya Shafiq, who did not wear the headscarf; and Bahai children reportedly prohibited from attending school because the Islamist-drafted 2012 constitution only recognizes three Abrahamic faiths.
"Morsi's regime was perceived by large swathes of the public as exploiting the populist demand for revolutionary reform to further a broader agenda to transform Egypt from a secular to an Islamic state," she writes for CNN's Public Square.
"It should therefore come as no surprise that the military's narrative that it has rescued Egypt from losing its very identity has been resonating."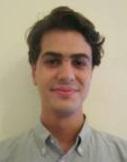 "While much of the political analysis and rhetoric of the opposition focused on the 'Ikhwanization' of the police and the state, the opposite was in fact true," says Mohamed el-Shewy, a program officer at the Cairo-based Egyptian Initiative for Personal Rights.
"Rather than taking control of institutions and implementing changes, the Morsi government pursued policies that aimed to preserve the status quo" even though the Brotherhood/feloul alliance proved to be unsustainable "as Morsi and the Brotherhood have since learned," he writes for the Middle East Institute.
Security discourse      
Morsi not only gave a free hand to the security forces to fight "thugs" and restore hayybat al-dawla— or "the prestige of the state, he adopted the xenophobic discourse similar to the SCAF's description of its security forces combating "foreign elements:
It is clear that the state used such security discourse to legitimize itself and delegitimize protests against it. Since 11 February 2011, social mobilization, when directed against the state, was caricatured as criminal or opportunistic, which marginalized the space in which to express socioeconomic grievances for which Egyptians had fought so hard. In turn, the discourse emphasized the idea of protests and labor action as obstructive and unnecessary, and that the state—including its security apparatus—is the sole body capable of protecting and envisioning the country's future.
While Brotherhood representatives such as Gehad el Haddad (who met with U.S. Senator John McCain during his recent visit) project an image of no-violence, the evidence shows otherwise. says Dina Guirguis.
"Unfortunately, this evidence is neglected in much of the reporting of the western media on Egypt," she writes for the Middle East Institute, describing a series of violent actions by Brotherhood activists which "give rise to fears that they are not exceptional but emblematic of an ideology."
While the Brotherhood leadership tries to officially distance itself from these and other incriminating videos and reports, claiming that those who carry out such actions are not "card-carrying members," a video of guns stored at what appears to be the regional headquarters of the political arm of the Brotherhood, the Freedom and Justice Party, in the Upper Egyptian province of Beni Suef has emerged
"Until the Brotherhood unequivocally distances itself from violence and incitement, arguments for its integration, especially from the West, ring hollow for many Egyptians, who experience a reality on the ground that is quite different from what the Western media portrays," Guirguis contends.