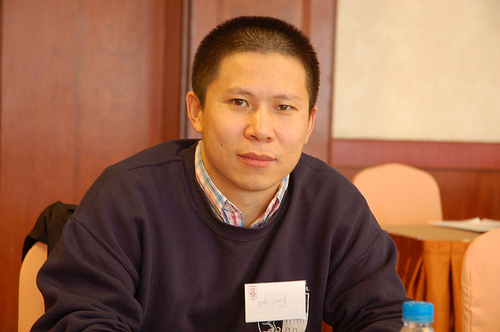 Liu Weiguo, the lawyer of Xu Zhiyong (right), was taken into custody today, after he attempted to visit Xu at Beijing No. 3 Detention Center, according to Human Rights in China:
According to a July 18 tweet sent out by rights activist Hu Jia, Liu has since been taken by Beijing Domestic Security personnel to a guest house run by China Petroleum & Chemical Corp, in the Liupukang neighborhood in Beijing's Western District and is under the watch of Domestic Security officers from Shandong Province (where Liu is from). Hu speculates that Liu may be forced to return to Jinan, Shandong Province.    
In another development, according to a Chinese language BBC article , a rights defense group founded by Guo Yushan, who has worked with Xu Zhiyong on rights defense activities, was shut down by authorities on July 18. Founded in 2007, the organization, Transition Institute was devoted to research on issues arising from social transformation.
The institute's closure appears to be in retaliation for Guo's criticism of Xu's detention.
"To arrest someone like him will have a big social impact and impose a heavy price on the authorities, especially if he's tried and convicted, and that seems possible," said Guo, a longtime friend of Mr. Xu, and an early collaborator in his rights efforts.
"He's been a moderate, arguing for opportunities to work for change within the system," said Mr. Guo. "But it looks like the authorities are determined to act, despite the price. We can all feel the pressure. I've also been under house arrest for the past two weeks," he told the New York Times:
Mr. Xu's supporters said his detention was reprisal for his role in the campaign demanding that officials disclose their wealth, an idea that some officials have also endorsed, albeit in more cautious terms. The Chinese authorities have now detained 16 people involved in the campaign, including Mr. Xu, said Maya Wang, a researcher on Asia for Human Rights Watch, an advocacy group with headquarters in New York. Three of them could soon stand trial in Jiangxi Province in southern China, she said, citing earlier court notices.
"Civic groups are enduring another round of repression, but still more and more obedient vassals are awakening as citizens," Mr. Xu wrote in an assessment of his career of activism, which he published on his blog in May.
For more information on Xu Zhiyong, see:
Xu Zhiyong, Advocate of Disclosure of Official Assets, Criminally Detained, July 16, 2013
Criminally Detained: Zhao Changqing and Six Other Advocates of Public Disclosure of Officials' Assets, April 19, 2013
Activists Call for the Immediate Release of Advocates for Public Disclosure of Officials' Assets, April 18, 2013
Police End Protest in Support of 10-Year-Old's Right to Attend School, April 17, 2013
"Fighting Corruption is Not a Crime: Please Support the Anti-Corruption Warriors", April 3, 2013
Gongmeng Officially Shut Down, Founder Formally Arrested, August 18, 2009
Xu Zhiyong in Custody Seven Days; Still No Official Explanation, August 4, 2009
"Law Research Center Is Shut Down as Authorities Tighten Control on Civil Society Groups," July 17, 2009
HRIC is supported by the National Endowment for Democracy, the Washington-based democracy assistance group.