"They promised us that Islam is the solution," said the old, bearded man in Tahrir Square. "But under Muslim Brotherhood rule we saw neither Islam nor a solution."
This week's events in Egypt appear to have validated French analyst Olivier Roy's theory about Islam and society first floated in his book, The Failure of Political Islam, The Economist notes:  
One of his simplest but most compelling points was that for all its power as a mobilising slogan, Islam just does not provide the answers to the problems of governing a modern state. Quite recently the resurgence of the Muslim Brotherhood in the wake of the Arab spring seemed, once again, to challenge Mr Roy's analysis. But as of this week, he could be forgiven for saying: "I told you so."
… These are some of the points he has made about the turmoil in Cairo. The Brotherhood regime in Egypt fell, of course, under the weight of its own incompetence … and its perceived nepotism. Nor, Mr Roy told me, could the Morsi government consolidate its power by "Islamising society"— because Egyptian society was about as Islamised as it could be already…. Egypt's Islamised social world was not centrally co-ordinated, as the Brotherhood would like it to be, but highly diverse, with sub-cultures growing around particular charismatic preachers and theological trends.
"Mr Roy is surely right to stress that Islam cannot provide detailed prescriptions for governing a modern state," The Economist notes. "As another scholarly Islam-watcher, Abdullahi Ahmed an-Naim of America's Emory University, has pointed out, Islam cannot even provide a clear basis for the centralised administration of family law, even though Islamic texts have a huge amount to say about family law."
The country that invented Islamism may well be on its way to undoing the spell, says Cambridge University's Hazem Kandil.
"In their state of shock and denial, the Brothers would certainly like to think that their unseating was purely a coup by the old regime," he writes for the LRB blog: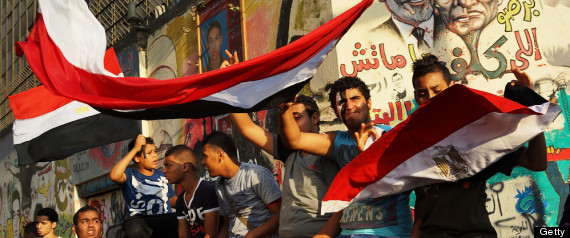 After an eight-decade cultural war to impose their unorthodox interpretation of Islam, they believed they had the hearts and minds of Egyptians safely tucked away in their pockets. Nothing could persuade them that 'the people' (or so many of them) would freely reject them. 
It all backfired. Millions of self-proclaimed Muslims refused to be either threatened or patronised; they refused to endorse the Brotherhood's conflation of Islamism and Islam… It turns out that Morsi's tenure was a blessing in disguise. If he had lost the presidency, Islamism would have remained the path not taken. But today, millions of Muslims have voted with their feet against Islamist rule.
"It is not uncommon in the history of revolutions for coups to pave the way or seal the fate of popular uprisings," Kandil concludes. "Those who see nothing beyond a military coup are simply blind."
In The Muslim Brotherhood: Evolution of an Islamist Movement (above), Carrie Rosefsky Wickham paints a picture at odds with crude depictions of the Ikhwan as a monolithic political bloc and stresses the generational and ideological divides that emerged due to divisions over democracy and forms of political participation, writes Marc Lynch, associate professor of political science and director of the Institute for Middle East Studies at George Washington University:
The generations disagreed about the meaning of sharia and its relationship to civil legislation, about the legitimacy of democracy, and about the ability of non-Muslims and women to be fully equal citizens. Members who led professional associations developed a far more tolerant and reformist discourse than was common inside the organization. The centers of power within the Brotherhood remained in the hands of a very different cohort, however: older men who came of age facing Nasser's prisons and viewed the world outside their Islamist milieu with skepticism, caution, and fear.
Now "the Islamists feel very much that they've been deprived of a legitimately won election" said Michele Dunne, who heads the Middle East program at the Atlantic Council, a Washington policy group.
Violent Allies
While the Brotherhood hasn't used violence in a long while, Dunne said in an interview, "some of their allies — Salafi or jihadi groups — could turn to violence" more readily, said Dunne, a board member of the National Endowment for Democracy:
As Egypt seeks a transition to democracy, it's hobbled by the lack of a road map to follow, according to Amy Hawthorne, a senior fellow at the Atlantic Council and a former State Department official who worked on the country's transition after Mubarak's ouster. First, the military made an arrangement with the Islamists to the exclusion of other groups in Egypt, she tells Bloomberg news.
"Now we might see the military doing a deal with non-Islamist groups and excluding the Islamists," Hawthorne said. "The only way Egypt is going to be able" to establish democracy "is if all groups agree on the basic rules of the game."