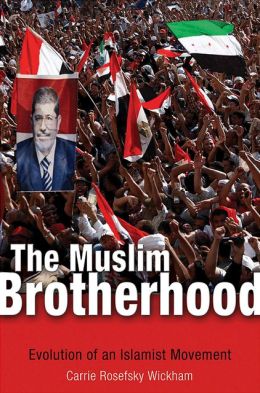 It wasn't too long ago that Egypt's Muslim Brotherhood and related Islamist groups were considered reformist or moderate enough to be trusted as credible democratic actors in the Middle East's political transitions. But few will emerge from reading an authoritative new book on the Brotherhood "optimistic about its ability to move beyond its past and play a constructive role in the evolution of a genuine Egyptian democracy," says a leading commentator.
In The Muslim Brotherhood: Evolution of an Islamist Movement, Carrie Rosefsky Wickham paints a picture at odds with crude depictions of the Ikhwan as a monolithic political bloc and stresses the generational and ideological divides that emerged due to divisions over democracy and forms of political participation, writes Marc Lynch, associate professor of political science and director of the Institute for Middle East Studies at George Washington University:
The generations disagreed about the meaning of sharia and its relationship to civil legislation, about the legitimacy of democracy, and about the ability of non-Muslims and women to be fully equal citizens. Members who led professional associations developed a far more tolerant and reformist discourse than was common inside the organization. The centers of power within the Brotherhood remained in the hands of a very different cohort, however: older men who came of age facing Nasser's prisons and viewed the world outside their Islamist milieu with skepticism, caution, and fear.
"The internal rifts were real—but the conservatives invariably won," says Lynch, noting "the limits of its moderation and the internal dominance of the more conservative forces."
Wickham insists on "breaking into the black box" of the Brotherhood's politics to delineate "the balance of power among its internal factions, the distribution of authority among its administrative subunits, its patterns of internal decision making, its strategies of recruitment and socialization, and its methods of enforcing internal conformity and discipline," he writes for Democracy Journal.
"While some within the Brotherhood did evolve toward a more pluralistic and tolerant political vision, the more moderate factions have almost always lost those battles, and many of the reformers ended up being driven from the organization," Lynch notes.
But the distinctions between 'reformists' and 'conservatives' are "blurry," according to Egypt analyst Eric Trager because their differences are merely tactical.
Indeed, in the narrative of Alison Pargeter's, "excellent" book, The Muslim Brotherhood: From Opposition to Power, "the 'reformists' seek immediate political participation and desire engagement with non-Islamists to broaden their appeal; 'conservatives,' by contrast, fear that this approach will water down the Brotherhood's Islamist authenticity and thus undermine organizational integrity," he writes for Fathom, a UK-based journal:
Yet both trends ultimately subscribe to the same ideological vision: they seek to Islamize society as a first step towards establishing an Islamic state, and ultimately creating a 'global Islamic state,' in the words of deputy supreme guide Khairat al-Shater. This is why even those young 'reformists' whom Brotherhood hardliners banished in 1996 for forming al-Wasat are now the Brotherhood's closest parliamentary partners. The two groups merely disagreed on when the Brotherhood should form its own party, not on what that party's goals should be.
Wickham's book "may offer too rosy and unidirectional a view of the ideological evolution of the middle-generation heroes of her narrative and exaggerate their overall importance within the organization," Lynch writes:
She struggles to explain why the hard-earned lesson of avoiding overreach failed to carry the day after the revolution, or why some individuals she viewed as reformists have fallen in line with the group's controversial new policies. She sees the potential for democratic commitment, but is also unsparing in noting the "profound inconsistencies and contradictions" in the Brotherhood's discourse, "yielding agendas in which newly embraced themes of freedom and democracy coexist uneasily with illiberal religious concepts."
But accepting elections is only one part of a commitment to democracy. Many Egyptian liberals worry that the Brotherhood's views remain majoritarian at their heart, with core questions about tolerance, citizenship, and the relationship between sharia and civil law unresolved.
The Brotherhood's ideological commitments have always been vague, Pargeter notes, suggesting that this was a tactical decision – "a deliberate means of protecting the Brotherhood from factionalism."
"Still, whenever circumstances have forced the Brotherhood to articulate specific positions, the Brotherhood has typically embraced extremes," Trager observes:
As Pargeter observes, the Brotherhood has supported suicide bombings against Americans in Iraq and against Israelis, believes that religious law should precede individual freedoms, and promotes intolerance towards non-Muslims as well as Shiites. In other words, the Brotherhood's ideological content, insofar as it exists, is a series of rabble-rousing reflexes, not an intellectual framework through which its stated goal of 'implementing the sharia' has ever been considered, let alone fleshed out.
To be sure, these reflexes allowed the Brotherhood to 'posit itself as the authentic voice that can bring Islam to the core of every aspect of life,' as Pargeter writes, and therefore win post-revolutionary elections in both Tunisia and Egypt. However, reflexes do not constitute a governing philosophy, much as the ability to win elections hardly implies the competence to rule.
"Meanwhile, the Brotherhood's ultimately 'conservative' impulses remain unchanged," says Trager, the Next Generation fellow at The Washington Institute for Near East Policy. "Rather than embracing 'reformist' outreach, it has continued to priorities the organizational prerogative of power consolidation. "