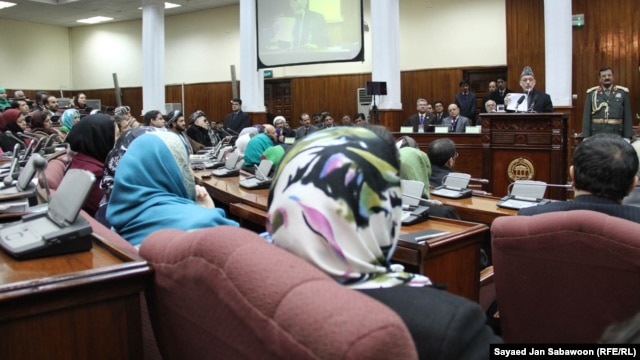 Afghanistan's parliament has rejected a law banning violence against women in "a severe blow to progress made in women's rights in the conservative Muslim country since the Islamist Taliban was toppled over a decade ago," Reuters reports:
President Hamid Karzai approved the law by decree in 2009 and parliament's endorsement was required. But a rift between conservative and more secular members of the assembly resulted in debate being deferred to a later date. Religious members objected to at least eight articles in the legislation, including keeping the legal age for women to marry at 16, the existence of shelters for domestic abuse victims and the halving of the number of wives permitted to two.
"Today, the parliamentarians who oppose women's development, women's rights and the success of women…made their voices loud and clear," Fawzia Koofi, head of parliament's women's commission, told Reuters.
The measure has long been targeted by conservative forces, who see it as far too liberal, said Gayle Tzemach Lemmon, deputy director of the Council on Foreign Relations' Women and Foreign Policy program:
The idea of sanctioning women's safe houses, or shelters, which already exist around the country, and prosecuting husbands for marital rape provoke particular ire. Parliamentarians, whose ranks include conservative clerics, raised both issues on Saturday when female lawmakers brought the measure to the fore. After only a few minutes of debate, the parliament's speaker shut down the discussion amid calls for the bill to be tossed out entirely.
"The strategy of taking the measure to parliament for debate had split Afghan women activists," she writes for The Atlantic (see below).
But despite such setbacks, a "new generation" of social and political movements is emerging in Afghanistan which rejects the regressive violent agenda of the Taliban and the corrupt, self-serving priorities of the political elite, says a leading activist.
A hint of this alternative Afghanistan evident in last weekend's "away-day with a difference" when 13 European ambassadors travelled from Kabul to the western city of Herat, AFP reports:
EU countries contribute more than $1.3 billion a year to agriculture and health projects as well as political development in Afghanistan, where the economy remains fragile 12 years after the fall of the Taliban. But pressure is now growing to foster a stable, self-sufficient business environment that can spread prosperity and forestall a return to extremism after 100,000 international combat troops pull out next year.
"Herat could be a model for the future of the country in terms of development, private sector investment and engagement with civil society and women," said Herat governor Daoud Saba.
"Of course there are risks we have to consider," he said. "The moment we began our transition to full Afghan control we noticed investors became more interested. We are pleased to get that message out to visitors."
"This is our first ever 'heads of mission' visit outside Kabul and we want to travel to demonstrate our long-term commitment," said EU ambassador Vygaudas Usackas.
"We are aware of the real facts on the ground, and we want to discover more about how Afghanistan can attract more foreign investment, as well as educate youth and improve human rights."
A former U.S. envoy to Kabul is trying to ensure a smooth transition when President Hamid Karzai leaves office in 2014.
Afghan politicians "need to make sure that there is a constitutional, democratic and orderly change of government," said Zalmay Khalilzad, a board member of the National Endowment for Democracy, the Washington-based democracy assistance group.
But short-term deals with the Taliban would jeopardize Afghanistan's fight for democracy and stability, according to a leading civil society activist.
"In December, I participated in a rare meeting in Chantilly, France, which brought together Taliban representatives and Afghans representing a broad spectrum of political leaders, government officials and parliamentarians," Nader Nadery (right), the executive chairman of the Free and Fair Elections Foundation of Afghanistan, recently wrote:
The gap between the perceptions of the Taliban and the rest of the participants was stark. The Taliban representatives' remarks focused mainly on war, while the other participants talked of Afghanistan's democratic future rooted in the rule of law, elections and accountable government. The meeting reflected the dual reality in Afghan life today. From the most remote places in Urozgan province to vibrant cities like Jelalabad and Herat, I see this contrast. There are small but highly visible groups of Taliban who are rooted in the country's past—a past wracked by repression, lawlessness and a painful isolation from the rest of the world.
But a growing majority of Afghans has left that past behind. While suicide attacks and violence still make the headlines, most Afghans are now focused on jobs, the rule of law, accountability and the coming elections in 2014.
"There is a new generation of social and political movements springing up—including political and civic groups like Afghanistan 1400 and A3, which stands for Afghanistan Analysis and Awareness—led by young, diverse and independent thinkers and activists," says Nadery. "They show a vision, a confidence and seriousness of purpose that stand in contrast to Afghanistan's slowly withering older parties."
The women's movement too, he notes, "is no longer a few courageous activists standing up to violence, [but], a diverse range of Afghans, including community elders, members of the local media and government, speak out against violence toward women, including sexual abuse and rape, demanding greater accountability and justice."
On the other hand, preserving Afghan women's hard-won protections long-term "appears to be in question, as the country's tiny women's rights movement faces an unenviable decision: leave intact the only law that attempts to halt such abuses, or continue to present changes to Parliament and run the risk that a growing conservative bloc could dismantle the law entirely," writes The New York Times' Alissa J. Rubin:
The quandary became evident on Saturday, when a bid to add more robust protections was rapidly withdrawn in Parliament after stinging rebukes. Angry mullahs and conservatives who never supported the law in the first place complained that it and the proposed revisions were un-Islamic and asked who could better decide than they who and when their daughters should marry.
The drive to amend the law was led by one of Afghanistan's more visible champions for women's issues: Fawzia Koofi, a determined, ambitious woman who gained a seat in Parliament in 2005 and in 2010, survived an attempt on her life by gunmen thought to be Taliban.
"There is a step back on women's issues," Ms. Koofi said. "The government used to be more supportive."
"If we wait for the best moment when there is no opposition, we will wait forever," she said. "Our worry is that things will get worse after 2014, and there's no guarantee that the next president will support the women's issues. We should have done it even earlier."
Women who opposed Ms. Koofi's gambit said they were resigned that it might already be too late to do more in Parliament than safeguard the current law, notes Rubin:
"It's gambling with the law with this kind of Parliament," said Mahbooba Saraj, a women's advocate who joined a news conference at the offices of the Afghan Women's Network. "It's a gamble with the lives of Afghan women."
Last week, the Afghan Women's Network, along with a number of Kabul-based civil society organizations, began sending out alarmed e-mails to embassies and international organizations, as well as reporters, to rally opposition to the effort to revise the law.
"The potential risk of opening this Pandora's box is enormous," said Heather Barr, the director of the Human Rights Watch office for Afghanistan, referring to the risks inherent in letting the full Parliament reconsider each provision.
"Just look at a photograph of the Parliament. What planet would you have to be on to think that they would vote to send themselves to prison if they married off their under-aged daughter, or send themselves to jail if they beat their wives?"
Nevertheless, "while the international community often despairs about widespread corruption here, there are signs that Afghan civil society is gaining the strength to fight back," writes Nadery:
The Free and Fair Election Foundation, which I head, is pushing for electoral transparency and demanding accountability of parliamentarians to their constituencies.  But we're by no means alone. Watchdog groups like Afghan Anti Corruption Network, Integrity Watch, and Equality for Peace and Democracy, as well as newspapers such as Hasht-e-Sobh, have become bold advocates for cleaner, more transparent government. Their advocacy recently triggered a parliamentary effort to impeach a minister accused of corruption.
"The reality in Afghanistan today is that civil society is blossoming. Our fight for a stable and democratic Afghanistan seems achievable," he concludes. "We cannot allow this progress to be undermined by hasty decisions or short-term deals with the Taliban in anticipation of the 2014 elections and the withdrawal of U.S. troops."