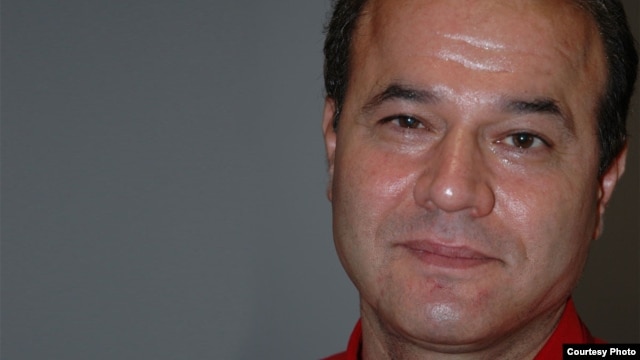 Death threats from government security services have forced Iran's most prominent labor union leader into exile.
Mansur Osanlu, the head of the Tehran bus workers' union, told RFE/RL's Golnaz Esfandiarithat the Islamic republic is becoming more repressive "day by day," adding that the authorities aimed to stifle his organizing activities.
"We were trying to bring unity among various workers groups in order to reach a solidarity society or a workers federation, I had become very active in this since last year and It didn't remain secret from [authorities] who would send me all kinds of messages and threats," Osanlu said.
Iranian authorities recently deployed Special Forces to break up a strikers' blockade, as workers used the May Day international labor holiday to demand better wages at a time of spiraling inflation.
Osanlu will remain critical to the effort of bringing attention to the plight of Iranian workers, whose situation is reportedly worsening because of mismanagement of the economy and international sanctions over Iran's controversial nuclear work, RFE/RL reports.
"Being inside or outside the country is not a determining factor, I think," Osanlu said. "What is important is what conditions you're facing and what possibilities you have and what price you're ready to pay."
Forcing activists into exile appears to be a strategic tactic by Tehran. In recent years, and especially since the bitterly disputed 2009 election and the ensuing crackdown, the regime has intensified pressure on many of those pushing for change. 
There is no independent labor movement in Iran and only a only a handful of autonomous unions, notably among teachers, sugar workers, and Tehran bus drivers, whose leader, Osanlu – widely known as Iran's Lech Walesa – was jailed for more than two years.
"Osanlu is perhaps the most important labor activist to emerge in Iran over the past decade, and his ability to organize the bus drivers of Tehran — and their consecutive activities — was really a rejuvenation of the labor movement," said Hadi Ghaemi, a spokesman for the International Campaign for Human Rights in Iran. "I believe he will continue to be a very articulate and important voice of Iranian workers."
The Islamic Republic has imprisoned dozens of independent labor activists, says a leading human rights group, charging that the government is increasingly violating workers' rights to assembly and association. The country is also a hub for human trafficking and child labor, reports suggest.
The impact of international sanctions has also prompted the regime crackdown, say observers.
"As Iran's economy continues to deteriorate, the labor movement is a key player to watch because of its ability to pressure the Islamic Republic through protests and strikes," say two leading analysts.
Iranian workers did not join the opposition Green Movement en masse, but "the economic pains caused by the Iranian regime's mismanagement, corruption, and international sanctions have dealt serious blows to worker wages, benefits, and job security — enough reason for Iranian laborers to organize and oppose the regime," according to RAND researchers Alireza Nader and Leila Mahnad.
Unions were effectively banned after the Islamic Revolution in 1979, and only tentatively re-emerged after the Khatami government agreed to respect the International Labor Organization's conventions on the right to organize.