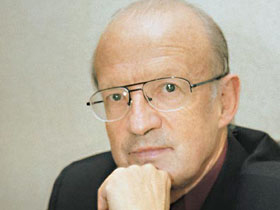 A leading Russian opposition figure is the subject of death threats, reports suggest.
Internet journalist Sasha Sotnik reports that security services have targeted Andrei Piontkovsky (left), a leading political scientist, essayist and democracy activist, for "assassination" while a minivan with surveillance equipment is reportedly parked in front of Piontkovsky's apartment building.
A member of the governing body of the opposition Solidarity movement and Coordination Council, Piontkovsky was prosecuted under anti-extremism legislation in 2007 for his book, "Unloved Country," which was deeply critical of President Vladimir Putin.
Piontkovsky is the "brain center" and master strategist of the opposition, according to Valery Otstavnih, an Ekho Moskvy blogger.
"It's difficult to put in jail a politician who is known all over the world. There would be a terrible outcry. It's easier to make him disappear," he writes.
The opposition's Expert Council has called on General Prosecutor Yuri Chaika to conduct a thorough investigation of the reported threats.
"The law-enforcement agencies are obligated to question the persons who may know anything about these assassination plans and take all necessary measures to prevent it, up to and including providing security for Andrei Piontkovsky and his family," said a council press statement.
Piontkovsky was one of first signatories of the online Putin_Must_Go manifesto, published on 10 March 2010, and he has repeatedly stressed its importance and urged citizens to sign.
"They decided to sacrifice Pekhtin," he said this week, referring to Vladimir Pekhtin, a vehemently anti-American member of the United Russia ruling party, who resigned from the Duma following revelations that he failed to disclose properties he owns in Florida.
"Every day a corrupted official is flung into the field of people's ire. I have a hypothesis that it is not only Navalny (the inventor of the 'Party of Swindlers and Thieves' brand) who participates in the campaign to discredit the State Duma, but also the authorities themselves," he said.
"It seems re-branding and re-formatting of top leadership are in the works; perhaps there will be early elections to the State Duma. And instead of the discredited Party of 'Swindlers and Thieves,' there will emerge an unblemished and radiant 'People's Front.'"
A contributor to the Journal of Democracy, Andrei Piontkovsky was a Reagan Fascell Fellow at the National Endowment for Democracy in 2006.