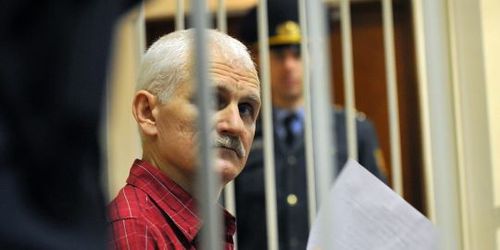 Ales Byalyatski is "one of the few opposition leaders who unites rather than divides" the opposition in Belarus, says a leading democracy assistance practitioner.
"He is respected by everyone across the political spectrum of the opposition and could emerge from jail as a unifying political leader," writes the National Endowment for Democracy's Carl Gershman in the introduction to The Byalyatski Matter, a new book from RFE/RL's Belarus Service, based on broadcasts about the activism and imprisonment of civil rights activist Ales Byalyatski:
Byalyatski's story of personal sacrifice could well be a catalyst for real political change in Belarus, as could the man himself…..Byalyatski, who received a copy of the book while in prison, was surprised and humbled. "This book was a real Christmas gift for me," he wrote from his prison cell. "I think it is something unprecedented, and, speaking sincerely, I didn't feel too comfortable when I found myself in the center of its attention. But the book will have its own life."
A co-founder of the Viasna (Spring) Human Rights Center, the country's largest human rights group, and vice-president of the Paris-based International Human Rights Federation (FIDH), Byalyatski was arrested in August 2011 on charges of tax evasion and sentenced to more than four years in prison.
The charges against Byalyatski were "as flimsy as the rule of law in Belarus generally," said The Economist's Edward Lucas. "Byalyatski is an austere character and the accounts, even if nominally in his own name, were used for his human-rights work."
Just ahead of the book launch, RFE/RL adds, three human rights activists were convicted of participating in an "unauthorized demonstration" and fined 1.5 million rubles ($173) for posting online a photo of themselves holding portraits of Byalyatski. This initial conviction led to several solidarity web posts by activists, some of whom have also been fined by Belarusian authorities. The Byalyatski Matter follows Byalyatski's career, from his opposition to the Soviet regime to later activities against Alexander Lukashenko's "last dictatorship in Europe."
FIDH is supported by the National Endowment for Democracy, the Washington-based democracy assistance group.