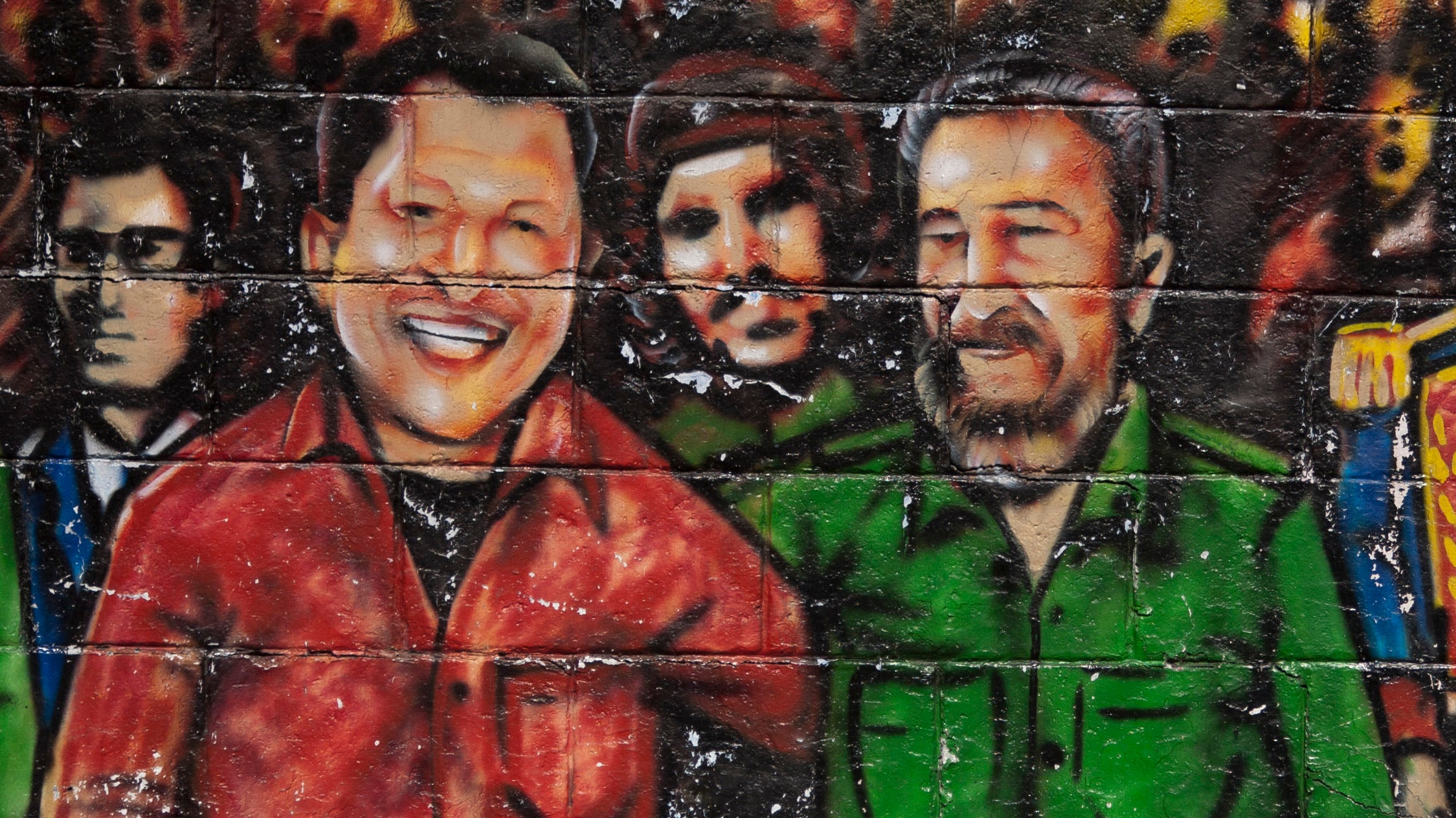 Was Venezuela's constitutional coup made in Havana?
"A throng of Hugo Chávez supporters flooded the streets of downtown Caracas on Thursday, as Venezuela's interim leaders substituted Mr. Chávez's inauguration ceremony for a massive demonstration of support for the absent, cancer-stricken leader," the Wall Street Journal reports:
Colette Capriles, a political analyst at Simon Bolivar University, said a certain "theology" was emerging around Mr. Chávez's persona, with supporters forging personal ties with the president and his movement. "They are saying they are the heirs of Chávez, or the sons of Chávez," Ms. Capriles said.
Chávez has designated foreign minister Nicolas Maduro as his political heir, but the president's death would lead to a power struggle within the Chávista movement and may create space for the democratic opposition, say analysts:
Chávez's charisma helped him skirt criticism about widespread government inefficiency, but Mr. Maduro's popularity could suffer if the problem isn't tackled, said José Rafael Mendoza, a political scientist at Venezuela's National School of Administration and Public Finance. "That could give the opposition more time" to strengthen, Mr. Mendoza said.
The populist leader's autocratic instincts were all too apparent on his interminable Sunday talk show.
"He once fired all the top management of the national oil company" during the show, says former Venezuelan trade minister Moises Naim. "In other instances of his show, he would nationalize a bank or the electricity company."
Oil money allowed the regime to bankroll handouts to the poor and disguise their catastrophic mismanagement of the economy, says Naim, a board member of the National Endowment for Democracy.
"That allows you to experiment, and provides you a cushion to cover your mistakes," he says. "The 'oil curse' allows for sustained bad ideas to linger over time."
Chávez also sent money to neighboring countries, often in the form of cheap energy. Some were friends of the ideological revolution, like Cuba. Others were marriages of political convenience.
"So if there are votes in organizations that come up about Venezuela," says Michael Shifter of the Inter-American Dialogue in Washington, D.C., "those countries are more likely to be influenced if get good deal on oil to vote with Venezuela as opposed to against Venezuela."
It's been a potent fusion of power, ideology, and economic leverage, says Shifter.
"I don't think it necessarily has to go this way," Shifter says. "You have Evo Morales who is a close ally of Hugo Chávez. But the Bolivian economy is much better managed than the Venezuelan economy.
Respect for the democratic process will be vital to restoring US-Venezuela ties, says the Obama administration.
But a leading democracy advocate detects Havana's hand behind the regime's attempt to bypass the constitution.
Chávez's mandate "began on January 10th, 2007 and ends January 10th, 2013, and if the elected president can't take the oath that day the Assembly's President assumes power temporarily and calls for new elections within a maximum of 30 days," says Carlos Ponce, general coordinator of the Latin American and Caribbean Network for Democracy.
"But for Cuba, which receives more than $10 billion a year plus other benefits from Venezuela, this is not acceptable," he says.   
"Thanks to Hugo Chávez and his fake revolution, the Cuban dictatorial regime has been able to survive this past decade," argues Ponce, a leading member of the World Movement for Democracy and the steering committee of the Community of Democracies.
A decrepit, debt-ridden, statist economy will form a key part of Chávez's toxic legacy, observers suggest.
"The state is the only producer of foreign currency," Willians Ruiz, an independent economist and government critic, told Al Jazeera. "The government realised that by manipulating the currency it could have a vast control of national economic performance… the economy ends up subjected to the interests of the régime."
For many analysts, divisions among Venezuelans are part of the price for a change in government policies and the inception of a new socialist project.
"The country has wounds of pain in its recent history caused by the corruption, the violence that we have suffered, and now we have a country completely divided," Ignacio Contreras, a member of the opposition Christian Democrat party (COPEI), told Al Jazeera.
According to some analysts, 2012 saw the most murders in Venezuela's history. The Venezuelan Violence Observatory, an NGO monitoring crime, estimated that 21,692 people were murdered in 2012, yielding a rate of 73 killed per 100,000 people.
"A broader concern is the democratic double standard that keeps rearing its head under Chávez's rule," according to TIME's Tim Padgett:
After Venezuelans in 2007 rejected Chávez's original bid to abolish presidential term limits, for example, he held another referendum in 2009 and won — even though the constitution barred him from revisiting the issue during the same term. The Inter-American Court of Human Rights recently ruled that the lack of due process Maduro decried in Paraguay can be glaring as well in Venezuela, where an arbitrary Chávez code has disqualified hundreds of opposition politicians from running for office simply because they were accused of corruption.
Defamation laws threaten to jail anyone who insults the President and government officials — despite the fact that before Chávez came to power, leftists and other dissenters were themselves often locked up for the same thing. And Judge María Lourdes Afiuni is still under house arrest (she had previously been in prison) after she angered Chávez in 2009 by releasing a corruption suspect because prosecutors had failed to bring him to trial during the time stipulated by Venezuelan law.