Russia today announced further curbs on civil society groups, as a leading analyst recommends "information warfare" as the most effective response to the Kremlin's growing authoritarianism at home and abroad.  
"Russia's Justice Ministry is proposing legislation to extend rules on surprise governmental inspections of nongovernmental organizations having 'foreign agent' status to the rest of Russian NGOs," Interfax reports:
The reasons for a "foreign agent" to undergo an unannounced inspection include a report from a private individual, government agency or media group that there are indications of extremism in its activities, an allegation by a government agency that the NGO has committed any other offense, or a decision of the president or government to have the organization checked.
The law that makes it binding on foreign-financed Russian NGOs engaging in politics to register as "foreign agents" came into force on November 21, 2012. Some of Russia's NGOs, including the Moscow Helsinki Group, Memorial, Golos, Civil Support and For Human Rights, declared they would boycott the law.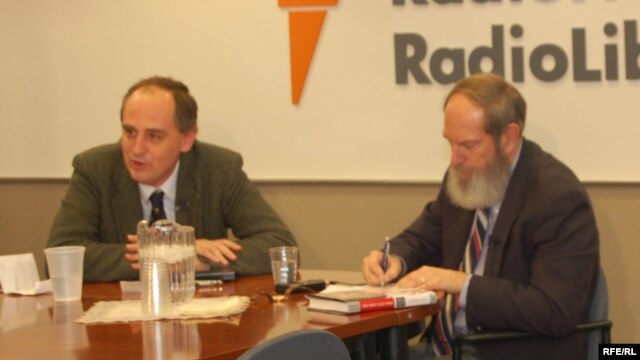 The Kremlin's crackdown on its critics and independent voices demonstrates Russia's "profoundly paranoid strategic culture," says The Economist's Edward Lucas (far left).
"As a result Russia behaves in ways that threaten or subvert other countries and obstruct Western diplomacy," he says. "The right response to this is not to appease Russia, but to contain it and to mitigate the effects of its actions."
The ruling elite exhibits "suspicion verging on paranoia about Western capabilities and intentions," Lucas writes in Rethinking Russia: The Paradox of Paranoia, a new report for the Center for European Policy Analysis.
"The most important thing to be done in constraining the Kremlin is what might be termed information-warfare," he suggests.
"Highlighting the shortcomings of the system inside Russia (especially corruption and ineffectiveness), as well as its meddling and bullying in neighboring countries, and its attempts to influence the political and economic systems elsewhere in Europe and in the United States are a national security priority — or should be," he writes.
"Such efforts were a serious part of Western defense efforts during the Cold War, but have fallen into some disuse. Universities, think-tanks, media outlets, public broadcasters, human-rights organizations and others all have a part to play here."
In perhaps the latest manifestation of elite paranoia, Russian legislators today cautioned against "revolution" and threatened to punish those who threaten political stability.
"Stability is most important. It largely depends on us, what the political process [in Russia] will be like,"said Vladimir Vasiliyev, the head of United Russia's faction in the Duma.  Revolution "mercilessly devours anyone who is keen on it," he added.
Russia's strategic culture is based on three elements, the most important of which is a paranoid suspicion about Western democracies' capabilities and intentions, writes Lucas:
Strategic paranoia is particularly focused on foreign interference in the former Soviet Union. The "color revolutions" in Ukraine, Georgia and Kyrgyzstan exemplified this threat in the eyes of Kremlin decision-makers. They discounted any idea that the protesters were motivated by a genuine disgust at election-rigging, economic backwardness and corruption. They saw only the hands of foreign puppet-masters. The clear involvement of Western NGOs and governments in support of clean elections, anti-corruption campaigns and media freedom was not the result of altruism or idealism, but irrefutable evidence of "interference."
But the Russian concept of interference is "blurred and reflects a paradox," he notes:
Is Western behavior objectionable because it is interference in the sovereign affairs of other countries? Or is it interference in countries that properly belong in Russia's sphere of influence and therefore had constrained sovereignty? Russia believes in non-intervention for the rest of the world, but has its own doctrine of "responsibility to protect" where its "compatriots" and former satraps are concerned.
President Vladimir Putin's April 2007 address to the Federal Assembly on threats to Russia's sovereignty is another example of the paranoia at work:
"To be frank, our policy of stable and gradual development is not to everyone's taste. Some, making skillful use of pseudo-democratic rhetoric, would like to return us to the recent past…while others deploy such rhetoric in order to deprive our country of its economic and political independence."
He blamed foreign grants for this, claiming:
"There has been an increasing influx of money from abroad being used to intervene directly in our internal affairs."
In November 2007 he spoke in similar vein, saying that Russia's opposition:
[...] need a weak, sick state. They need a disorganized and disoriented society, a divided society—in order to fix their deals beyond its back … [They] scavenge like jackals at foreign embassies … counting on support from foreign foundations and governments, instead of their own people's support.
"It is worth noting that this angry and defensive stance came at a time when Mr. Putin, and Russia, were in a position far more solid than they now enjoy," notes Lucas.
The paradoxes are also evident in the five principles of Russian foreign policy outlined in 2008 by the then-President Dmitri Medvedev, which included the "indisputable priority" of "protecting the lives and dignity of Russian citizens, wherever they may be" [emphasis added] and Russia's right to give "special attention" to particular regions in which it has "privileged interests."
"The goal of stability abroad is closely tied with maintaining stability at home," says Lucas, who cites James Sherr's observation:
If the overarching aim of the United States is to maintain an international order hospitable to the values of liberal democracy, then Russia's aim is the obverse: to create an international environment conducive to the maintenance of its system of governance at home.
Yet this "negative goal" (of preserving Russia's voice in international affairs) conflicts with a second one: preventing constraints on Russia's own freedom of action. As Sir Roderic Lyne, a former British Ambassador to Moscow, notes, Russia both demands respect for the status quo and resents its obligations:
This applies above all to the area of highest priority in Russia's external policy, the "post-Soviet space." Here, Russia's goal is to maintain a droit de regardand to prevent the further erosion of its influence by intervening actively and, where necessary, aggressively.
"So what is a sane opposition to do in the face of an insane minority imposing its increasingly paranoid order? Perhaps ask for help and even protection from the outside world," writes Masha Gessen, the director of Radio Liberty's Russian Service:
In the next year or so Russia is scheduled to host several major international events, including a G-20 summit meeting in September 2013 and the Winter Olympics in February 2014. The visits of world leaders in politics and sports will continue to lend legitimacy to a regime that deserves to be treated as a pariah. By shaking the hands of Russian leaders, Western politicians will be engaging with them as partners — and communicating to the Russian opposition that it is alone.
The West may also be able to derive leverage from a second element of Russia's strategic culture: a desire for economic strength.
"Russia no longer thinks it can be the center of an independent economic system….. To modernize the economy and satisfy the population, it needs consumer goods, industrial equipment, know-how, investment and markets," Lucas notes. "Given that it needs to be part of the world economy it seeks to do so on the best possible terms."
Yet Russia rejects the normative frameworks which Western states, companies and other actors publicly uphold, he adds:
Russians believe that talk of human rights, anti-corruption, corporate governance, anti-money-laundering policies, corporate integrity policies, corporate social responsibility and so forth are just camouflage for Westerners who are motivated solely by money……The result is what might be called a "broad spectrum approach:" an ability to approach economic and political issues abroad with public and private diplomatic pressure, espionage, commercial bargaining, information-warfare and the use of money in politics.
Yet the Kremlin's efforts to secure economic prosperity are handicapped by a third specific feature of Russia's strategic culture: messianic superiority.
"Russian leaders and policymakers no longer have any truck with Soviet-style communism. They realize that it was a political and economic dead end," writes Lucas:
But they do believe in many cases in their country's spiritual destiny, not least as the heir to the Byzantine Empire. Ideas of Russian uniqueness fit well with the rejection of foreign ideas such as political competition. They also chime with the notion — deeply held if bizarre to outsiders — that following the fall of ancient Rome and Constantinople, Moscow is the "Third Rome," besieged by enemies.
The Kremlin also seeks to utilize the "similarly weird" notion of "Neo-Eurasianism" associated with Alexander Dugin and similar Slavophile nationalists.
"Although there is no longer an ideological component to Russia's relations with Europe, a 'civilizational' component has replaced it," said James Sherr.
"A successful mixture of anti-terrorist and anti-corruption rhetoric, moderate anti-Americanism and old-style administrative politics has enabled Vladimir Putin to consolidate an 'acceptable' authoritarian regime in Russia. This model has the potential to be replicated," Bulgarian analyst Ivan Krastev wrote in 2004.
"That is no longer the case," says Lucas:
Russia's economic miracle has proven only to be the result of high oil prices. Russia's anti-terrorist credentials are frayed by the violence in the North Caucasus. …. The casual cynicism of the job-swap between Mr. Putin and Mr. Medvedev has undermined the attraction of the Putinist political model. Anti-Americanism is a less popular cause than it was ten years ago: it is hard to see the United States now as a swaggering hegemon. Russia has not extracted any significant geopolitical dividend either from America's "pivot" to Asia or from the worst crisis in the EU's history.
The durability of what Moscow-based political scientist Samuel Greene calls "networked authoritarianism" is a matter of dispute.
But the regime "still works," says Lucas, at least in the terms defined by Russian economist Vladimir Inozemtsev: "the elite's most important goal is the preservation of a system that enables incompetents to control the country's wealth."
The Moscow Helsinki Group, Memorial, Golos, and For Human Rights are supported by the National Endowment for Democracy.