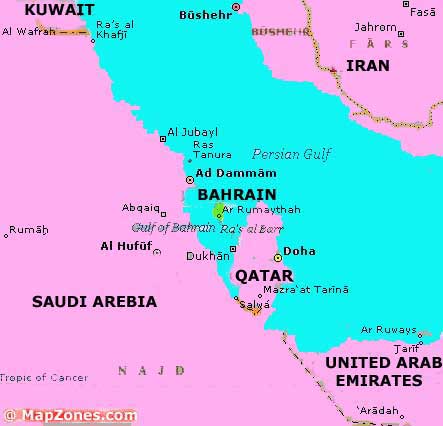 "Of the half dozen Arab states that were shaken by popular demands for democracy when the Arab Spring erupted two years ago, Bahrain is the easiest to forget," says a prominent democracy analyst.
"In sharp contrast to Tunisia, Egypt, Libya, and Yemen — where dictators were toppled — (or even Syria, with its ongoing civil war), Bahrain's authoritarian monarchy has crushed the democratic opposition," writes Larry Diamond, a senior fellow at Stanford University's  Hoover Institution:
Of the six countries gripped by revolutionary fervor, Bahrain is the smallest in size and population, with most of its 1.3 million people (nearly half of them non-citizens) crowded onto an arid, largely barren island about a third the size of Rhode Island. It is not nearly as rich as its small Gulf neighbors, Kuwait and the United Arab Emirates, and its oil exports now rank a paltry 48th in the world. Among the states of the Arab Middle East, Bahrain may be the most dependent on a powerful neighbor, Saudi Arabia – which intervened militarily in March 2011 to rescue the besieged and deeply unpopular al-Khalifa monarchy.
"But along with its mounting problems, Bahrain has a geostrategic trump card: location," notes Diamond, writing for The Atlantic.com. "Jutting out in the center of the Persian Gulf, less than 100 miles from Iran, it hosts the U.S. Fifth Fleet, the pillar of naval security in the region and an indispensable counterweight to Iran's ambitions for regional hegemony."
A Bahrain court last week upheld conviction of 13 leading democracy advocates. The judgment follows last month's confirmation of a prison sentence for a popular democracy advocate, Nabeel Rajab.
The Gulf Center for Human Rights and the Bahrain Center for Human Rights issued a statement of concern over Rajab, who is president of the BCHR, director of the GCHR and deputy secretary general of the Paris-based Federation for International Human Rights. Other international human rights groups, including the World Movement for Democracy, have called for letters of appeal and protest to be addressed to the authorities.
But human rights and democracy advocates have been disappointed by the Obama administration's perceived reluctance to press Manama to enter a genuine dialogue with opposition elements committed to democratic reform.
"It is an old story in the foreign policy of this, the world's most powerful democracy," writes Diamond:
We need a substantial security presence in the Persian Gulf now, as much as ever. But we do not need to buy in to the regime's false framing of this as a sectarian conflict pitting a loyal American ally against an Iranian fifth column. Neither should we underestimate the cards we hold. Bahrain and Saudi Arabia are more directly threatened by Iran than we are, and they need the stabilizing presence of the U.S. Fifth Fleet at least as much as we, the United States, perceive a national security interest in being there. As has so often been the case when interests collide with principles on the world stage, we retreat too quickly into cynicism, failing to exercise the full extent of our leverage.
The situation in Bahrain is not only deeply unjust; it is also unsustainable. Sooner or later a deeply aggrieved and enraged majority will erupt again, and when they do, their anger and profound disappointment will be directed at the United States as well.
Larry Diamond serves as senior consultant (and previously was codirector) at the International Forum for Democratic Studies of the National Endowment for Democracy.