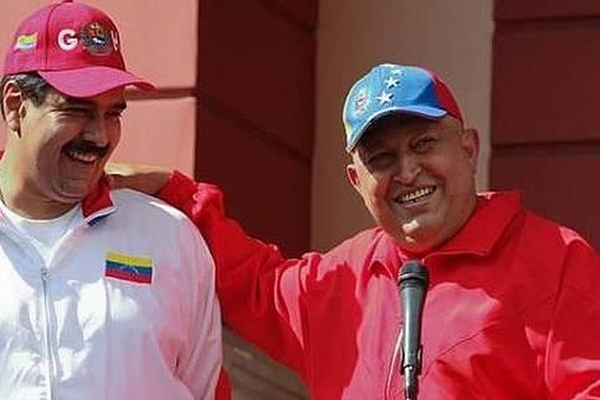 Venezuelan President Hugo Chávez is in a "complex" condition following his latest surgery for cancer in Cuba, his designated successor said today.
The incumbent's illness has prompted the populist leader to name Vice President Nicolas Maduro (above left) as his political heir, a development that surprised Venezuela-watchers.
"This is huge. He could have said something indirectly. He could have said something like, 'We'll have to see. Let's talk about it when the time comes,'" said Javier Corrales, a professor of political science at Amherst College in Massachusetts. "He switched from being very evasive to very articulate. That must have been the result of a major change in health for the worse."
Venezuela's long-rumored transition to the post–Chávez era began when the cancer-stricken president made an explicit call to his supporters to get behind Maduro as his successor, writes Francisco Toro:
We're reduced here to painting with very broad brushes—a kind of tropical Kremlinology that tells its own story about just how authoritarian politics have become in the Chávez era. [but] Maduro is "seen as a champion for the civilian side of the Civilian-Military divide, a split typically described as pitting more radical, leftist, pro-Cuban civilians against more conservative, corrupt, nationalistic military men in the upper echelons of bureaucratic Chavismo.
Opposition leaders and independent observers alike question whether the ideologically diverse ruling alliance can remain united in the absence of Chavez.
"Just look at all the different groups in the MUD, there's a full spectrum from right to left," said a Western diplomat in Caracas, referring to the opposition Democratic Unity coalition's 20 or so political groupings.
"Do you think they would be together if it wasn't for Chavez? Their hatred of him is the only thing holding them together. Without him, it's a totally new scenario, and the different egos and points of view will rise to the fore again."
Recent developments have led analysts to question whether the status quo is sustainable.
"Chávismo without Chávez can only exist for a short time," said Moises Naim, a board member of the National Endowment for Democracy. And that may be so, Toro writes in The New Republic:
Chávez's explicit endorsement ends what some had feared would become a messy fight to succeed him. But how lasting will that peace prove to be, once the comandante is out of the picture? After all, the skills it takes to remain in an autocrat's favor over an extended period of time have little in common with the skills it takes to keep the governing coalition intact—to say nothing about running the country.
Now that Chávez has named his successor, notes Americas Quarterly Editor-in-Chief Christopher Sabatini, "the gubernatorial election in Miranda is becoming a test of succession within the opposition over who could potentially have the legitimacy to lead in the post-Chávez era."
"Venezuela will never be the same again," says Sabatini, senior director of policy at the Americas Society and Council of the Americas. "There is no going back. The Chávez era may be coming to a close, but the historical imprint that Chávez has had on Venezuelan history is certainly not."
"Whether you like it or not," said Sabatini, "Chávez has forever changed Venezuelan politics. And he will continue to shape the country, particularly since many will perceive him as a martyr should he succumb abruptly to the disease."
One Caracas-based analyst cites the precedent of Argentine President Cristina Fernandez's popularity surge after her husband Nestor Kirchner's death.
"It's obvious that if you compare Maduro and Capriles head-to-head, today or before, Capriles is without doubt a much stronger leader, evidenced by his 45-percent vote share against the maximum leader," local analyst Luis Vicente Leon said.
"But if an election occurs soon after an emotionally dramatic event (like Chavez's death), then you're not comparing Capriles with Maduro but with the emotion unleashed by such a loss," he added.
But Chávismo rests on more than the incumbent's charisma, as evidenced by the recent presidential elections in which opposition candidate Henrique Capriles "was thumped by more than 11 points as an ailing Chávez, barely able to campaign, nonetheless coasted to a third term," notes Toro:
That campaign showed the obscene structural advantages a cash-flush petrostate incumbent enjoys in an increasingly autocratic environment where opposition fundraising is badly hobbled by harassment and intimidation against its donors, and all checks on the abuse of official prerogatives for campaign advantage have been hollowed out. While Maduro has none of Chávez's charisma or storied emotional bond with the poor, he would undoubtedly inherit that advantage.
"Capriles is probably the only potential opposition candidate with sufficient national presence, name recognition and organization to defeat a sympathy-buoyed Nicolas Maduro in a short campaign," Credit Suisse analysts suggest.
"However, if he were to lose a second election in under three months, there could be greater uncertainty about who would be the opposition's candidate if new elections were held."
Chávez purchased much of his popularity "with a massive, deficit-financed consumption boom," notes Toro, who blogs about the Chávez Era at CaracasChronicles.com. "To give just one example, the government has imported literally millions of Chinese-made appliances to sell below-cost to its supporters."
This indicates, analysts suggest, that Chávez's authoritarian populism has not been sufficiently institutionalized to ensure its longevity.
"He was an institution-breaker not an institution-maker," the COA's Sabatini said.
Chávez's populist spending spree "comes at a price," says Toro.
"If nothing is done, some forecasters estimate Venezuela's 2013 budget deficit will reach an insane 19.5 percent of GDP (consider that Greece's deficit topped out at 15.4 percent of GDP in 2009)," he notes. "That this demand-side boom can't last is clear as day."
And that may present fresh opportunities for the opposition ……….
Because, macro-economically speaking, a fresh election in February is an entirely different proposition from one in, say, December 2013.
If transition comes earlier, the "winner" of fresh elections will find himself in the unenviable position of having to reverse treasured Chavista spending programs soon after taking power, and Chávez will forever be remembered as the hero who kept the evil neoliberals at bay right up until the day he died. But if Chávez manages to hang on for another year or so, he may just live to preside over the collapse of his own governing model.
Which is one very good reason to cry out, "¡Viva Chávez!"