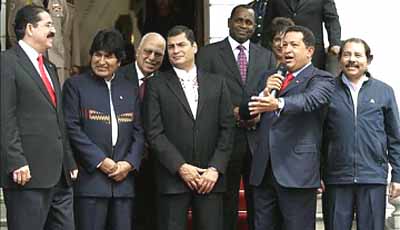 Three decades after the fall of Latin America's military dictatorships, democracy in the region is again under threat.
"This time, the strongmen are populist elected leaders, who — under a veneer of constitutionality — concentrate power in their own hands, marginalize opponents and use public resources to stack electoral races in their favor," writes Global Post's Simeon Tegel.
Bolivia's Evo Morales, Ecuador's Rafael Correa, Venezuela's Hugo Chavez, and Nicaragua's Daniel Ortega (above, with former Honduras President Manuel Zelaya, second from left) fit the description.
"They have a strong personality and a bullying style," says Jose Miguel Vivanco, Human Rights Watch's Latin America director. "They go after critics, opponents and others who get in the way of their political agenda, whether it is the judiciary, the media or civil society."
"And the practice is to use the whole power of the state," he added. "There's no torture or killing but the name of the game is intimidation and, in some cases, closing down criticism and opposition."
Elected authoritarians "have learned to use democratic instruments in a way that is not democratic," says Daniel Montalvo, a politics professor at Quito's San Francisco University, citing Correa's referendum to overhaul Ecuador's judiciary.
"[The referendum] is a very democratic tool but its use has been to legitimize a situation where there is no separation of powers," Montalvo said.
Analysts have observed deterioration in the quality of democratic governance in the region – and not only in authoritarian populist regimes.
The countries that have retreated from records of relatively impressive democratic performance can be lumped into three categories, says Freedom House analyst Arch Puddington:
1.

  

Countries governed by regimes of what Jorge Castaneda called the "irresponsible left." Venezuela under Hugo Chávez is front and center here, followed by Ecuador, Nicaragua, Bolivia, and, to a lesser degree, Argentina.

2.

  

Countries where criminal violence, often driven by drug-trafficking rivalries, has spiraled so completely out of control as to have weakened press freedom, rule of law, and other democratic indicators. Drug-related violence has also retarded the growth of democratic institutions in El Salvador, Guatemala, Honduras, and the Dominican Republic.

3.

  

Countries that have experienced less-than-democratic leadership upheavals. The main examples are Honduras, which has yet to fully recover from the 2009

coup that removed President Manuel Zelaya

from office, and Paraguay, where President Fernando Lugo was ousted in an impeachment process that lasted barely 24 hours.
"The process of democratization has stagnated, reached a peak or may well be backsliding as a whole in the region," says Peter Smith, a Latin America expert at the University of California, San Diego.
Yet, without elected leaders being held accountable for their actions, citizens' demands are unlikely to ever be fully met, said Cesar Ricaurte, of Quito-based journalism nonprofit Fundamedios, which has been targeted by Correa for its criticism of his assaults on press freedom.
"The region needs to build strong democratic institutions, not personality cults around messianic strongmen," Ricaurte added. "That is the only way we are going to transform and eradicate poverty."
Fundamedios is a grantee of the National Endowment for Democracy, the Washington-based democracy assistance group.