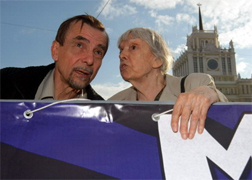 Russia's new NGO law requiring foreign-funded groups to register as "foreign agents" is comparable to the Nazi law requiring Jews to wear yellow stars, says a leading activist.
The current crackdown on pro-democracy and human rights advocates reflects Kremlin "hysteria," says Valery Boshchev, a member of the Social Partnership Foundation.
"Since Vladimir Putin's return to the Kremlin, the Russian parliament has rammed through a raft of laws tightening the screws on civil society, the government kicked out USAID, and opposition demonstrators are facing unwarranted criminal charges," writes Rachel Denber, Deputy Europe and Central Asia director, Human Rights Watch.
"But the crowning piece in this crackdown came on September 21, when the parliament adopted in first reading a new definition of treason that could criminalize all kinds of international advocacy."
The bill broadens the definition of treason to cover consulting services to foreign governments or agencies.
"This law is the scariest one of all," said Lev Ponomaryov (above, left), the head of For Human Rights. "Anyone who provides any information to a foreigner could be in prison for 10 years."
If USAID hadn't been expelled from Russia, HRW's Denber writes, "its Russian staff could have been charged with treason under the new definition and in the current anti-foreigner hysteria the government has been whipping up."
Civil society groups yesterday pledged to defy the new law requiring foreign-funded NGOs to register as "foreign agents."
The leaders of several prominent NGOs, including partners of the National Endowment for Democracy, issued a joint statement insisting they would defy the law.
"We survived the Soviet power, and we'll survive this," said Lyudmila Alexeyeva (above, right), a Soviet-era dissident who leads the Moscow Helsinki Group.
"My friends, hard times are ahead," she said, "but we must live through them as we have many times before. Our human rights movement was born in the 1960s, when you could easily get a sentence or forced psychiatric treatment or exile."
She added, "We are still here, and where is the power that tried to kill us? Gone."
The Washington Post's Kathy Lally reports: She and the others, longtime campaigners all — Lev Ponomaryov, head of the Movement for Human Rights; Valery Borshchov of Social Partnership; and Liliya Shibanova of Golos, an election-monitoring group — said the members of their groups refuse to comply with the new law requiring nongovernmental organizations that receive money from abroad to register as foreign agents.
To the Russian ear, "foreign agent" sounds like "spy." "Once they called us anti-Soviet," Borshchov said, referring to a typical criminal charge in earlier days, "but even then they didn't call us foreign agents."
The Other Russia asked leading NGOs how they will deal with the new law:
Alexeyeva said that the Moscow Helsinki Group held a meeting with its regional partners and concluded that they did not intend to register as "foreign agents."
Golos director Lilia Shibanova said that her organization is prepared for the coming persecution and intends to argue the measure in court – up to the Constitutional Court, if necessary.
"We are organizing a public campaign in order to show people what our position is and what kind of work we do," she said.
According to For Human Rights director Lev Ponomarev, it's necessary to "warn all non-commercial organizations in Russia about the danger of registering under the new law." He explained that following the new measures would entail having to turn down funding from international foundations, and that Russian businesses are "too frightened" to work with such organizations.
He also noted that even North Caucasian organizations, which are in a particularly difficult position since they are constricted by the federal government on one hand and radicals on the other, are refusing to register as agents.
"We need to remember that human rights organizations are a part of the protest movement and we need to stick clearly to this position," Ponomarev said.
Valery Boshchev, a member of the Social Partnership Foundation, believes that the government's actions towards human rights advocates constitute hysteria, and compared the "foreign agent" designation to the Nazi law requiring Jews to wear yellow stars. "We're going to put banners up everywhere, announcing: 'We aren't swindlers or thieves, just foreign agents. We don't take bribes and don't steal money,'" said foundation director Igor Chestin.
The all-Russian small and medium business organization Opora Russia also intends to take on the new designation, but along with the intent of holding an information campaign to tilt public opinion in their favor.
Alexander Sidyakin, one of the bill's backers, claimed that NGOs had "smeared" Russia's electoral process with "mud."
"We'll let citizens know whose megaphone this mud is crawling out of, and they can draw their own conclusions," he added.
The Russian rights activists criticized a plan to shift Radio Liberty broadcasts from the airwaves to the Internet.
"We cannot lose a station with an active civil stance based on the universal values of freedom, democracy, and human rights," they wrote in an open letter, adding that such values "are under attack from the Russian government."
"I have been listening to Radio Liberty since my childhood, and it helped me become a human rights activist," Ponomaryov said.
What activist Yuri Dzhibladze calls the Kremlin's Cold War on civil society is eerily reminiscent of darker times in Russian history, observers suggest.
"I can't help but hear the faint but creepy echo of the old article 58 of the Soviet criminal code, which was commonly used against dissidents," HRW's Denber writes on Huffington Post:
Article 58 made offering assistance to the 'international bourgeoisie' or being part of a public group that was 'under the influence' of the bourgeoisie a treasonous offense.
I've spent a lot of time in recent months explaining that even with the nasty crackdown, the anti-foreigner vitriol, and the pervasive influence of the security services in Russia today, Putin's Russia cannot be compared to the Soviet Union. I still believe that to be true. But it's getting one step closer.
"We lived through Soviet power," Alexeyeva said, "and we will live through this power."