A model anti-democrat failed modernizer
Russia's opposition is showing promising signs of breaking out of its Moscow-St. Petersburg cocoon to engage ordinary citizens in the provinces, while the Kremlin's propaganda drive to portray its critics as dupes of the West has failed to capture the imagination of the Russian public, polls suggest.
Some 42 percent of Russians consider relations with the US to be either "friendly," "good neighborly," or "normal and peaceful," 47 percent thought they are "cool" or "tense" and only 4 percent said they are "hostile," according to a poll from the independent Levada Center.
"We have practically emerged from the post-Soviet period," Vladimir Putin said this week.
But Putin adopted a stridently xenophobic tone during his presidential election campaign, portraying the pro-democracy movement as political mercenaries in the pay of Washington. His stance was evidence that he has yet to acquire a post-Soviet mindset, says a leading analyst.
"Putin, and Putin's henchmen, did not believe these protests came about spontaneously, because the FSB [intelligence agency] does not believe that anything comes about spontaneously," Anne Applebaum, policy director of the Legatum Institute, writes in The New York Review of Books:
Nor does the FSB believe that independent civic groups are really independent, that nongovernmental organizations are unconnected to foreign governments, and that 'democrats' really believe in democracy. "Unfortunately," he declared back in 2007, "there are still those people in our country who act like jackals at foreign embassies…who count on the support of foreign funds and governments but not the support of their own people."
"This was a direct warning to Russia's tiny community of human rights and trade union activists, and it was perceived as such at the time," writes Applebaum, author of The Gulag, who traces Putin's political mentality to his 'Chekist' hero, former KGB chief Yuri Andropov (above):
Putin wanted to restore more than Andropov's name. He also, it seems, wanted to restore the old KGB boss's way of thinking. Andropov, in Soviet terms, was a modernizer—but not a democrat. On the contrary, having been the Russian ambassador to Budapest during the Hungarian Revolution in 1956, Andropov understood very precisely the danger that "democrats" and other freethinking intellectuals posed to totalitarian regimes. He spent much of his KGB career stamping out dissident movements of various kinds, locking people in prison, expelling them from the USSR, and sending them to psychiatric hospitals, a form of punishment invented during his tenure. RTWT
Meanwhile, leading activists this week made for the Caspian town of Astrakhan, 800 miles southeast of Moscow, to protest a March 4 mayoral election which saw pro-Kremlin United Russia candidate Mikhail Stolaryov defeat leftist rival Oleg Shein of the Just Russia party, "using all the dirty tricks in the old 'managed democracy' toolbox, including repeat voting, voter coercion, and ballot box stuffing."
But the anti-Putin movement is facing a strategic choice, analysts suggest.
"The opposition has a choice now. They can go down the road of being radicalized and marginalized," or work within the system, says Alexei Mukhin, director of the independent Center for Political Information in Moscow. "This is the end of the December [protest] movement, not the beginning of a new one."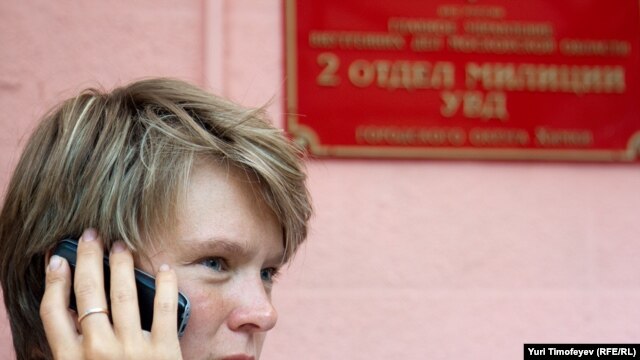 Environmental activist Yevgenia Chirikova (left) makes a list of seven oppositionists to watch:
Chirikova rose to national prominence by heading a tenacious environmental protest movement against plans to build a toll-road through an old-growth forest, and protected national park, in her native Khimki, a grim industrial suburb of Moscow. She and members of her group suffered repeated arrests as well as several still-unsolved vicious attacks by unidentified thugs.
The Levada Center is a grantee of the National Endowment for Democracy, the Washington-based democracy assistance group.