The international hacking group Anonymous has reportedly disabled several Chinese government websites to protest a regime crackdown on social media.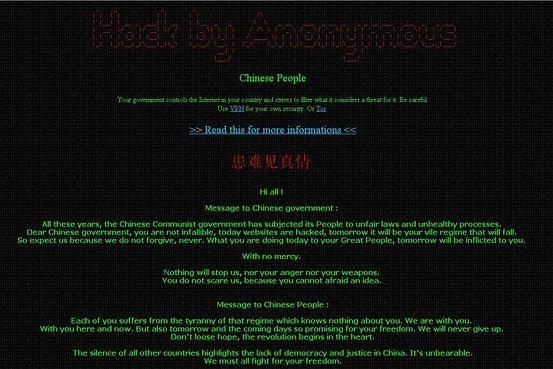 "Dear Chinese government, you are not infallible, today websites are hacked, tomorrow it will be your vile regime that will fall," the English-language message (right) read. "What you are doing today to your Great People, tomorrow will be inflicted to you. With no mercy."
China's state media recently announced the closure of dozens of websites, including two popular microblog networks in an attempt to stifle widespread speculation about an ongoing power struggle within  the ruling Communist Party. Six people were detained "for spreading rumors of a coup d'état."
The party "has been engulfed in the most significant political upheaval since the 1989 Tiananmen Square massacre," notes one observer.
But the "Western media has largely missed the most significant development in Chinese politics these days," writes Minxin Pei, professor of government at Claremont McKenna College.
"It's not the dramatic downfall of Bo Xilai, although the incident is one of the most important events in elite politics in post-Deng China. Rather, it's the stirrings that have revived contentious political issues banished from polite society in China since the Tiananmen crackdown more than two decades ago," he writes in The Diplomat:
First, there appears to be a widely shared consensus among China's thinking class that the country's economic reform is either dead or mired in stagnation.
Second, those who believe that economic reform is dead or stuck argue that only political reform, specifically the kind that reduces the power of the state and makes the government accountable to its people, will resuscitate economic reform (some advocate for more radical, democratizing changes, although the consensus on this particular point has yet to emerge).
Third, the status quo, which can be characterized as a sclerotic authoritarian crony-capitalist order, isn't sustainable and, without a fundamental shift in direction, a crisis is inevitable.
"The post-Tiananmen consensus, which might be characterized as giving economic reform and development a chance to solve China's political problems (one-party rule and poor governance), has basically broken down," Pei contends:
The voices of China's liberal intelligentsia are now resonating among a public increasingly disenchanted with the party's policies. In particular, such voices should appeal to China's better-educated youths, whose numbers have increased several times since Tiananmen. Two decades of rapid economic growth, consumerism, and state-sponsored nationalism may have lulled them into political apathy. But as they experience the injustice, corruption, and incompetence of the current system in their daily lives, they'll most likely feel increasingly swayed by voices urging a fundamental change of course.
"With soaring inequality, pervasive corruption, lawlessness among the ruling elites (as the Bo Xilai story has revealed), signs of division within the top hierarchy, and a sense of loss of direction permeating all levels of Chinese society, Chinese liberals… may think that they have a new opportunity to push for democratic change."