Russia's revived and robust opposition plans to rally near the Kremlin next month, maintaining the momentum of protests against the electoral fraud and endemic corruption characteristic of Prime Minister Vladimir Putin's "soft authoritarianism."
The news came as the new US envoy to Russia, known for his commitment to promoting democracy, was sworn in by US Secretary of State Hillary Clinton.
Former Duma deputy Vladimir Ryzhkov said activists would seek permission to hold rallies in Moscow and several other Russian cities on February 4. At least 17,000 have used Facebook and other social networks to confirm attendance at the Moscow rally.
"Our strategy is to organize big, big actions," said Ryzhkov (left), a leading member of the World Movement for Democracy. "Not often, but big actions, with real political effect."
But the Kremlin is reportedly tightening control over permits for rallies in its vicinity:
"It looks like they are afraid of some kind of a storming of the Kremlin, which is a pure paranoia," said Dmitry Butrin, a journalist who is one of the organizers of the demonstrations. A Kremlin spokesman said it was just a routine change aimed at making the rules more consistent. He denied it was related to the demonstrations or an effort to prevent rallies in the area.
Clinton cited the prospect of democratic reform in Russia yesterday, as Michael McFaul (right),* formerly President Barack Obama's chief Russia and Eurasia adviser on the National Security Council, was sworn in as the new US ambassador to Russia.
"The coming months and years will be crucial for Russian democracy," she said. "Russians from all walks of life and every corner of this great country are making their voices heard, both face to face and in cyberspace, expressing their hopes for the future.
As a leading expert on Russia and democracy, McFaul is exceptionally well-qualified to handle "one of the [United States'] most complex and consequential relationships," she said.
"Few Americans know Russia or know democracy better than Mike McFaul. And I can think of no better representative of our values and our interest in a strong, politically vibrant, open, democratic Russia, as well as a deepening U.S.-Russian partnership," Clinton said.
While McFaul will arrive in Moscow at a time of political flux, some aspects of Russian politics will appear all too familiar.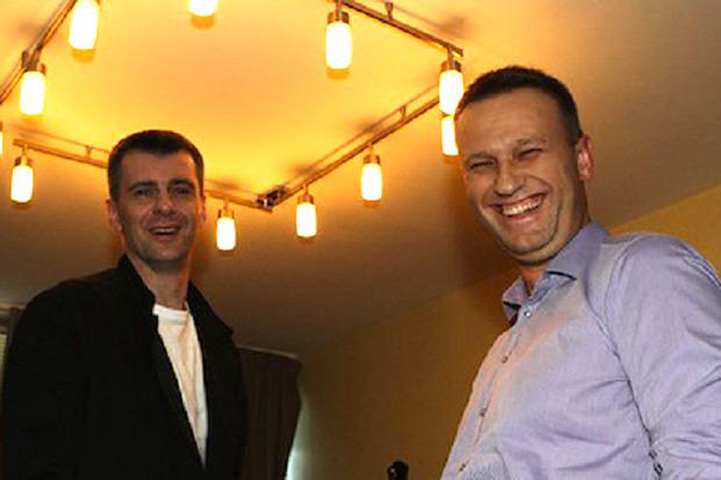 In the run-up to March's presidential election, the Kremlin's dirty tricks brigade is at it again, reports suggest. Pro-Putin activists are disseminating a distorted image of a meeting between the prominent anti-corruption blogger Alexei Navalny and likely presidential candidate Mikhail Prokhorov (above):
In a sleight of hand used repeatedly by the Soviet authorities to support their own version of history, pro-Kremlin activists Photoshopped a picture of Mr Navalny to make it look as if he had met with and was being funded by Boris Berezovsky, a UK-based oligarch who is wanted in Russia on criminal charges.
"The funniest thing is that the original photograph (where I came out far from my best)… shows another oligarch: Prokhorov," Navalny wrote, publishing the original shot.
The crudely faked photograph recalled the Soviet era when photographs and even oil paintings of official meetings were regularly censored to remove frozen-out officials.
Navalny, 35, a charismatic lawyer with blond model looks, has used his Internet popularity to steer the movement against fraud-tainted elections for the parliament in December, despite concerns over his nationalist views
A documentary video demonstrating Putin supporters' corrupt electoral practices has gone viral across Russia, and it is likely to add to widespread popular discontent with the country's ersatz sovereign democracy.
But while "the protest movement that has shaken Russia in the last month-and-a-half was touched off by rigging in the parliamentary election in December," writes Masha Gessen, it will need to develop a more serious and ambitious political program if it is to secure genuine reform.
"We want honest elections" is its battle cry, and a peaceful transition of power following the March presidential election is its hope. But as the country enters its brief presidential election season, one thing is clear: You cannot out-strategize the Kremlin; it's been rigging the game for too long. To have any hope of restoring either honesty or faith in the elections, the protest movement will ultimately have to take on Putin himself.
The anti-Putin opposition is politically inchoate, featuring liberals, nationalists, communists and relatively apolitical citizens motivated by disgust for a manifestly corrupt regime. The absence of a coherent program and leadership complicates efforts to develop a strategy for shifting from protest to politics, analysts suggest, and could play into Putin's hands.
Putin "has tried to treat them as though they were Occupy Wall Street," says Stephen Sestanovich, a Russia specialist at the Council on Foreign Relations and a board member of the National Endowment for Democracy. "No real leadership, he says, no coherent program, nobody who could get anything done, not a really big crowd."
"They don't have a unified program, but they've got a lot of popular momentum behind them," he says.
Gessen's biography of Vladimir Putin, "The Man Without a Face," is due to be published March 1. Any future editions will not feature any reference to Putin at London's 2012 Olympics, if British parliamentarians get their way.
In a move likely to infuriate the Kremlin, Labour's former Europe minister Denis MacShane will make a parliamentary call for the government to make it clear that Putin is not wanted at the Games……The Olympics are of special significance for Russia. It will host the winter Games, the first Olympic event following London, in Sochi in 2014. Putin, who is closely associated with the Black Sea resort, also masterminded Moscow's successful bid for the 2018 Fifa World Cup.
But a House of Commons debate today heard calls for the UK to send a "strong signal" to the Kremlin over its human rights violations and failure to enforce the rule of law.
"The time has come to stand up for British values rather than to perch on our knees to Mr Putin in the hope that Russia will co-operate on Syria or Iran," said MacShane.
While Prime Minister David Cameron and Foreign Minister William Hague were willing to "loudly criticize Gaddafi or Bashar al-Assad," they were "mute" on Russia or China.
"There is a dreadful double standard here," said MacShane. "Some human rights violations are more equal than others. When Cameron and Hague went to Russia last year, they didn't publicly raise the Magnitsky case. It was shameful."
*Michael McFaul is a former Reagan-Fascell fellow at the National Endowment for Democracy, the Washington-based democracy assistance NGO.
Vladimir Ryzhkov is a member of the steering committee of the World Movement for Democracy.