China's state-run All China Federation of Trade Unions (ACFTU) plans to unionize 65% of the country's foreign-invested enterprises by the end of this year.
The union aims to organize 78% of firms by 2012 and 90% by 2013, it announced today, several days after Beijing's city administration said it will follow other municipal authorities and penalize companies that do not recognize labor unions.
The moves reflect a concern on the part of the Communist authorities to contain labor militancy and pre-empt the emergence of genuinely independent unions, analysts suggest. While the emergence of a Solidarnosc-type labor movement appears unlikely for the near future, the country's ruling elite is sensitive to labor's leverage and political potential.
Independent unions and grass-roots labor activists played a vital mobilizing role during the recent revolts in Tunisia and Egypt, while last year's outbreak of wildcat strikes in China's auto industry and, more recently, in Shanghai, generated vocal criticism of the party-controlled ACFTU.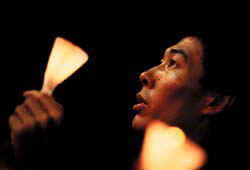 The absence of genuine trade unions may impede the party's efforts to curb labor militancy, according to Han Dongfang (right) of the Hong-Kong-based China Labour Bulletin.
"As last year's wave of strikes and the recent migrant worker riots in Guangdong clearly demonstrate, workers are angry. They are demanding better pay and working conditions and an end to the social injustice and discrimination they see around them every day," he contends. "But with no real trade union that can articulate those demands, workers are left with little option but to take to the streets."
Independent labor militancy forced the authorities to concede new labor rights earlier this year and which has contributed to rising wages. Growing labor costs and an aging workforce are jeopardizing China's position as the world's lowest cost manufacturer of consumer goods, according to a recent report from KPMG International, leading companies to consider new sourcing locations across Asia.
China's top trade union leader Wang Zhaoguo last week vowed to strengthen ties with U.S. trade unions, addressing a delegation from the U.S. Change to Win Federation. Wang, who is also vice-chairman of the Standing Committee of the rubber-stamp National People's Congress, said that China's ruling Communist Party supports friendly relations between Chinese and American labor unions.
Independent trade unions are outlawed in China and freedom of association is severely curtailed.
"This reminds me of the final scene in George Orwell's Animal Farm when the pigs have dinner with the farmers," a US union official told Democracy Digest.
The China Labor Bulletin is supported by the National Endowment for Democracy, the Washington-based democracy assistance group. Han Dongfang is vice-chair of the World Movement for Democracy.